Regular price
₹ 1,100
Sale price
₹ 880
Unit price
per
(20% Off)
Sold out
Buy Lucky Bamboo Plant (Without Pot)
Lucky bamboo, a feng shui symbol of good fortune, adds culture, spirituality, a touch of greenery, & freshness to any place. This tropical plant requires little attention & may thrive in various environments, making it ideal for beginner gardeners. Available in various sizes, they thrive in water or well-drained soil. Indoors, they can reach 5 ft tall & 2 ft wide in partial shade. The lucky bamboo plant is not only a fortunate charm, a source of energy, & an air cleanser, but its long stalks & delicate leaves also offer a beautiful aesthetic touch to any space. To promote positivity in any space, care for or donate a lucky bamboo plant.
Sizes Available: 50 cm, 75 cm, 110 cm
Number Significance:
--- 2 Sticks: love and relationship
--- 3 Sticks: happiness, long life, and health
--- 5 Sticks: wellness on all fronts
--- 6 Sticks: success and good luck
--- 7 Sticks: balance all aspects of chi energy
Read below to learn more about the lucky bamboo number significance.
View full details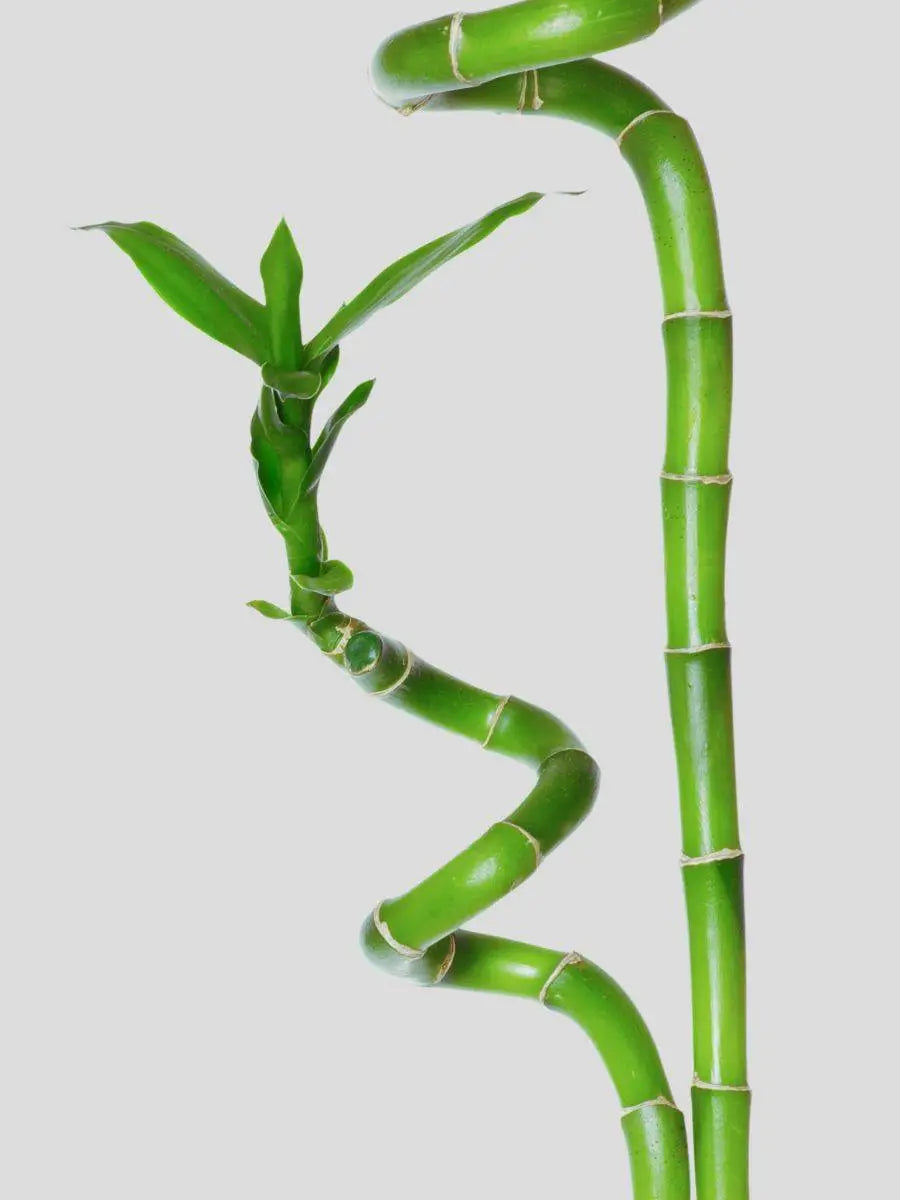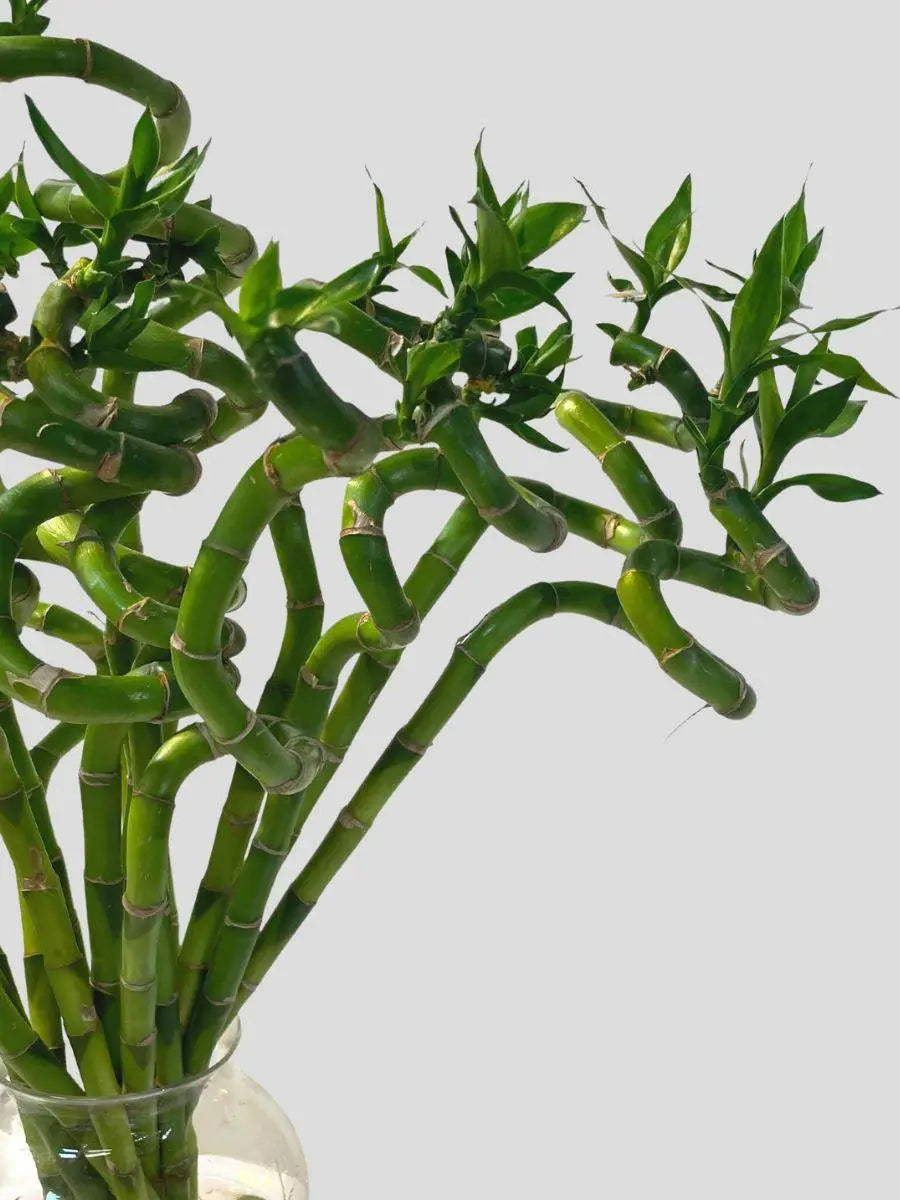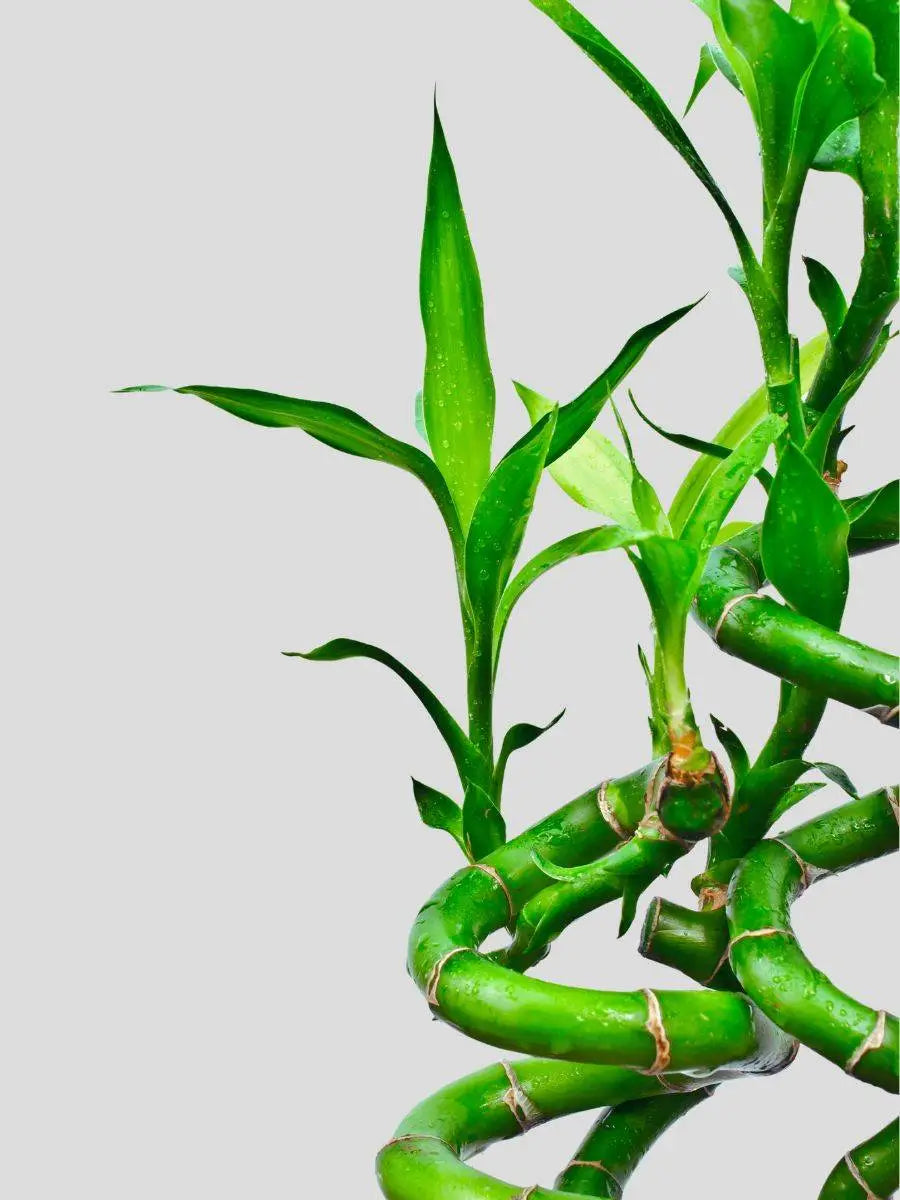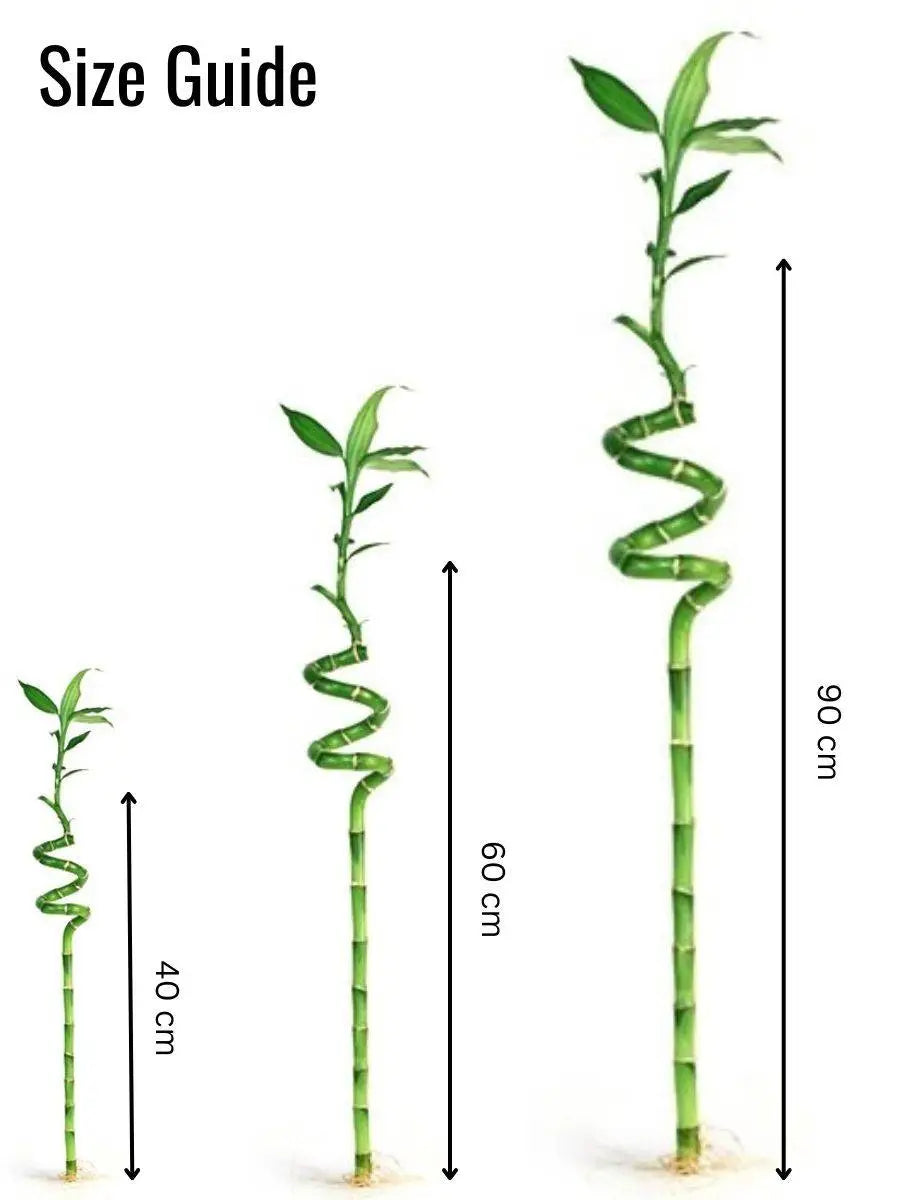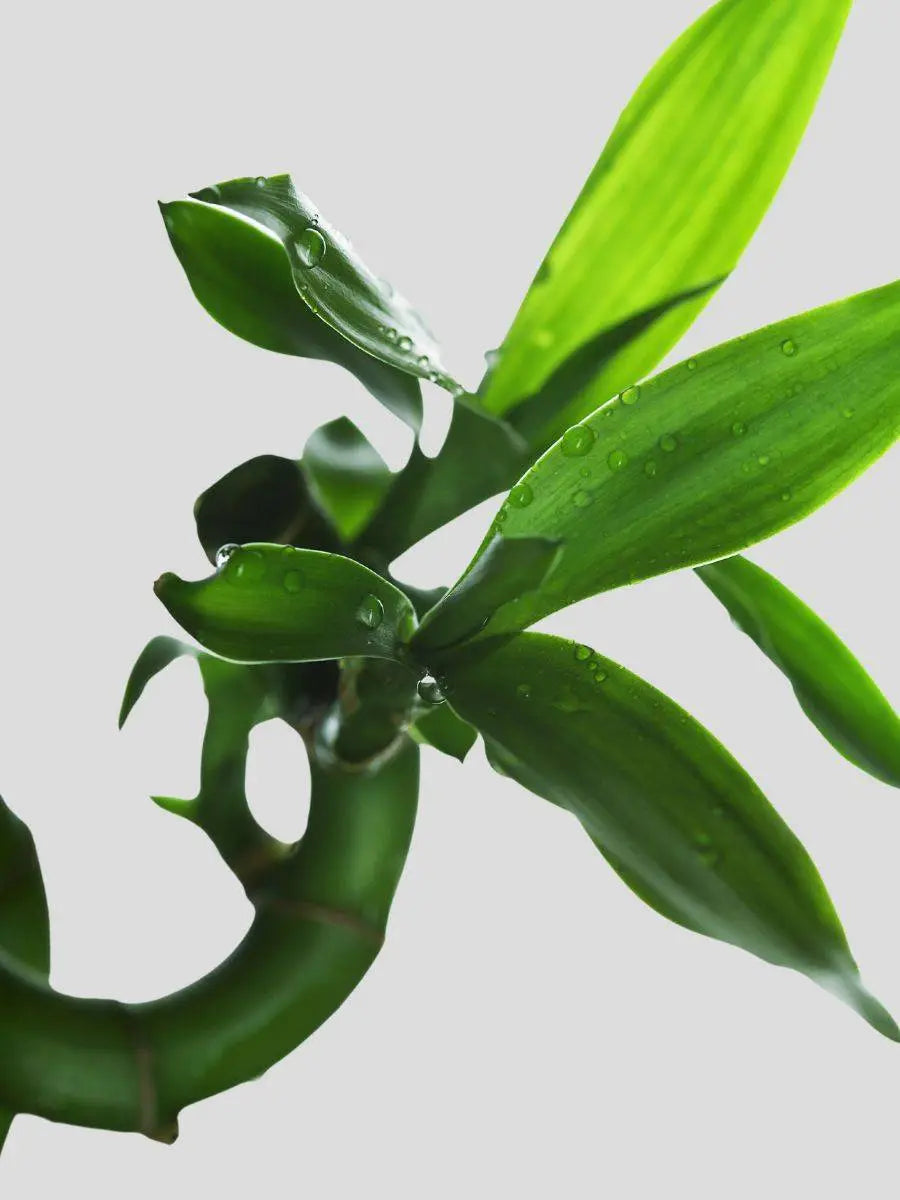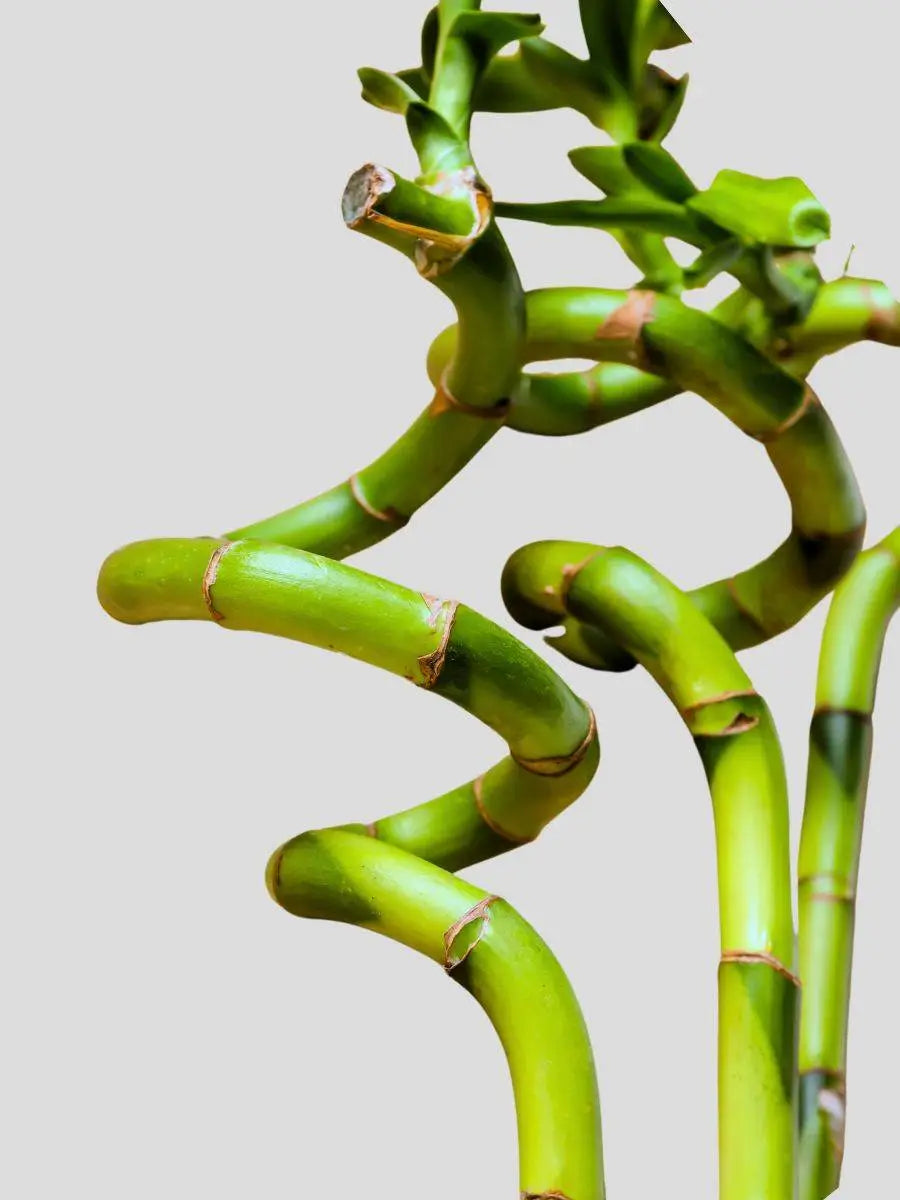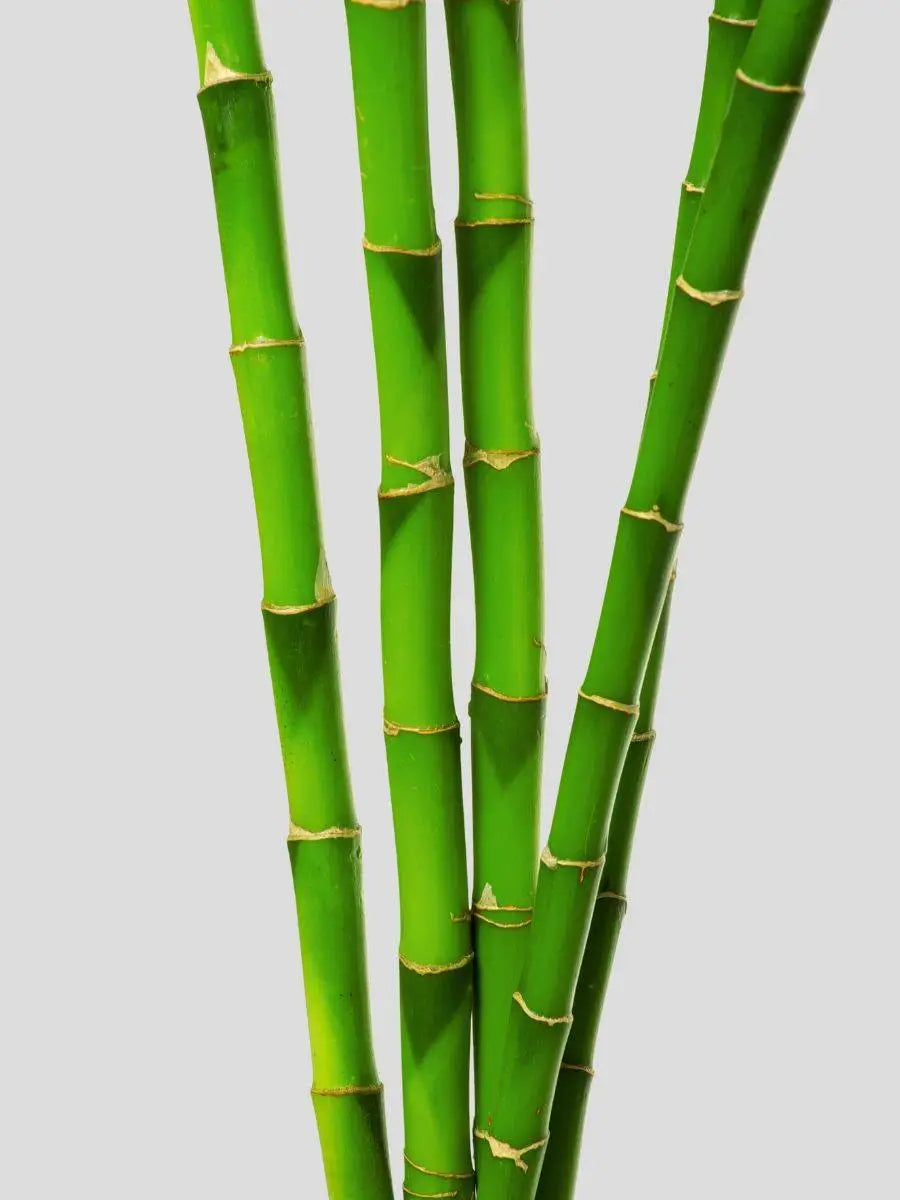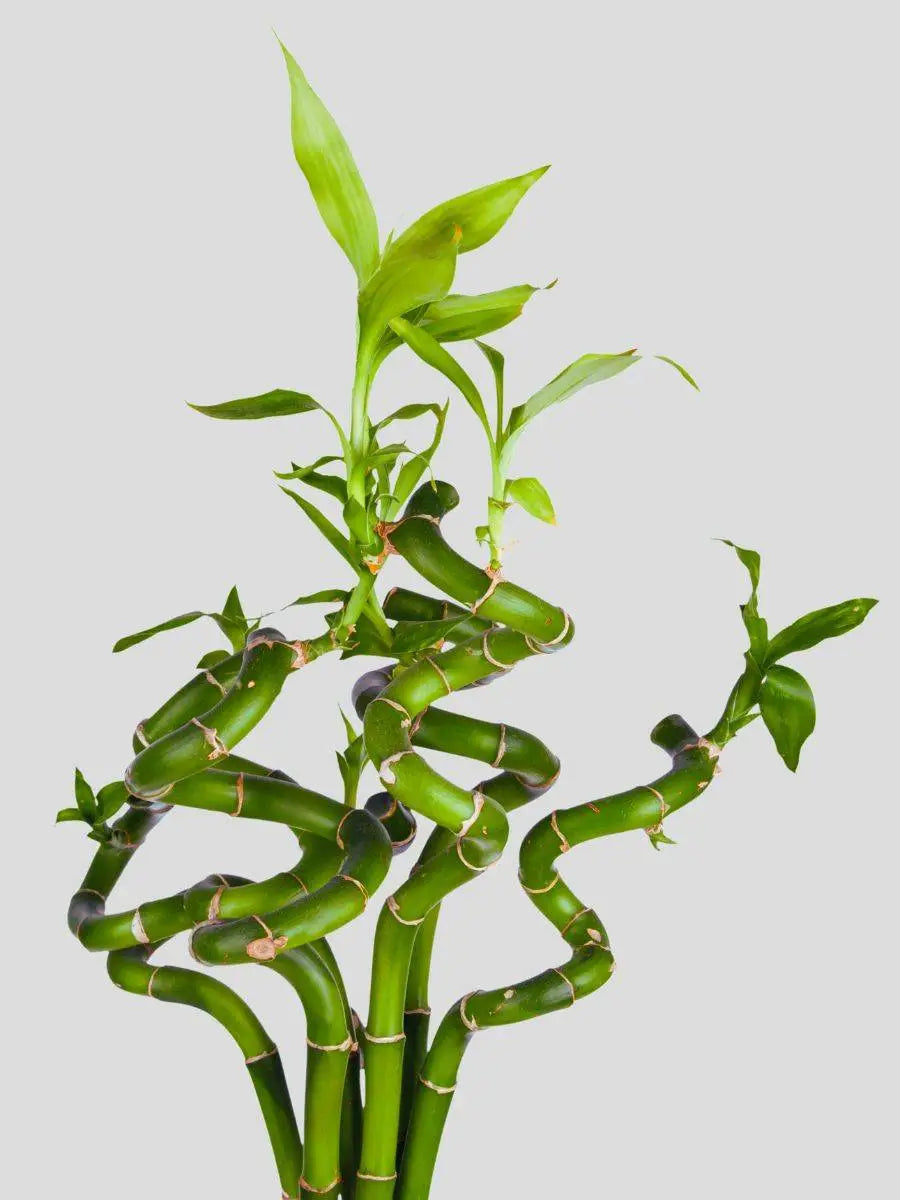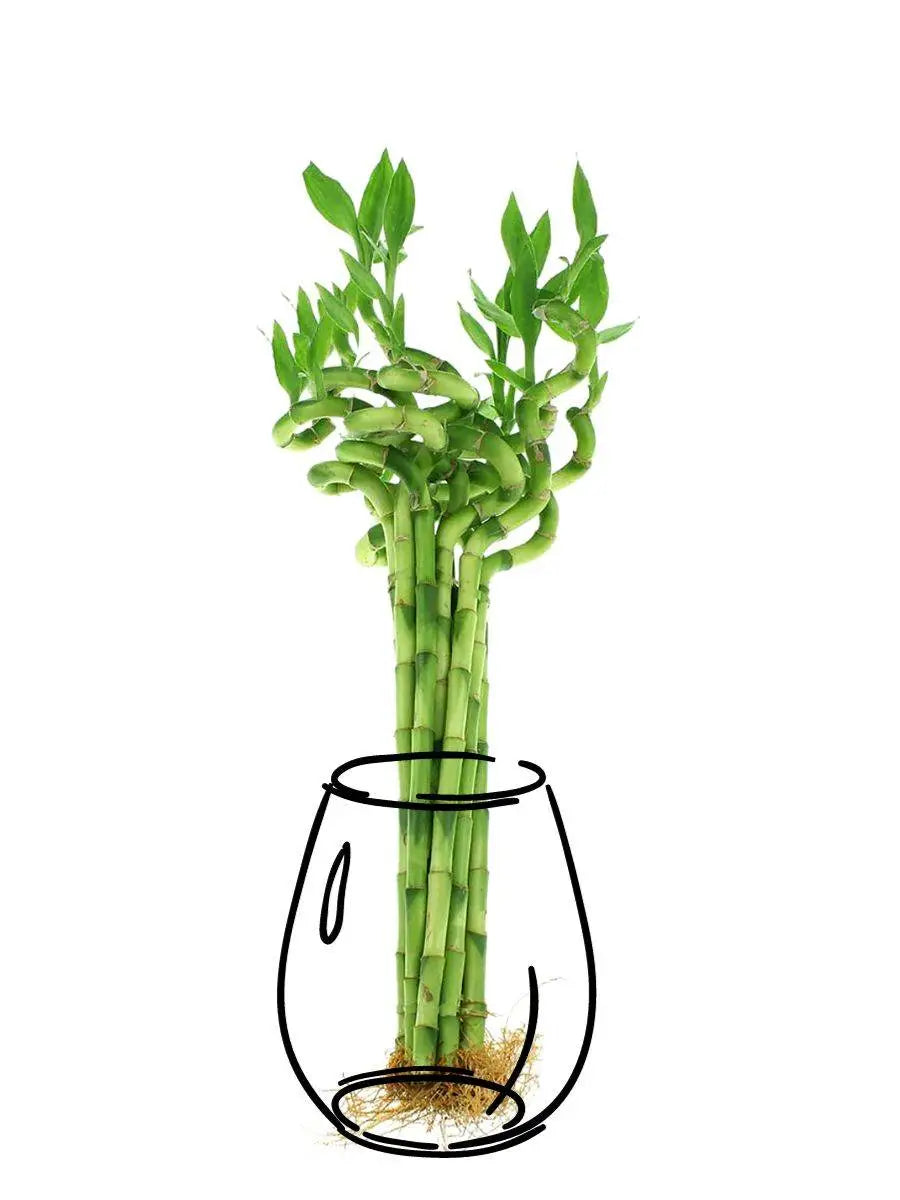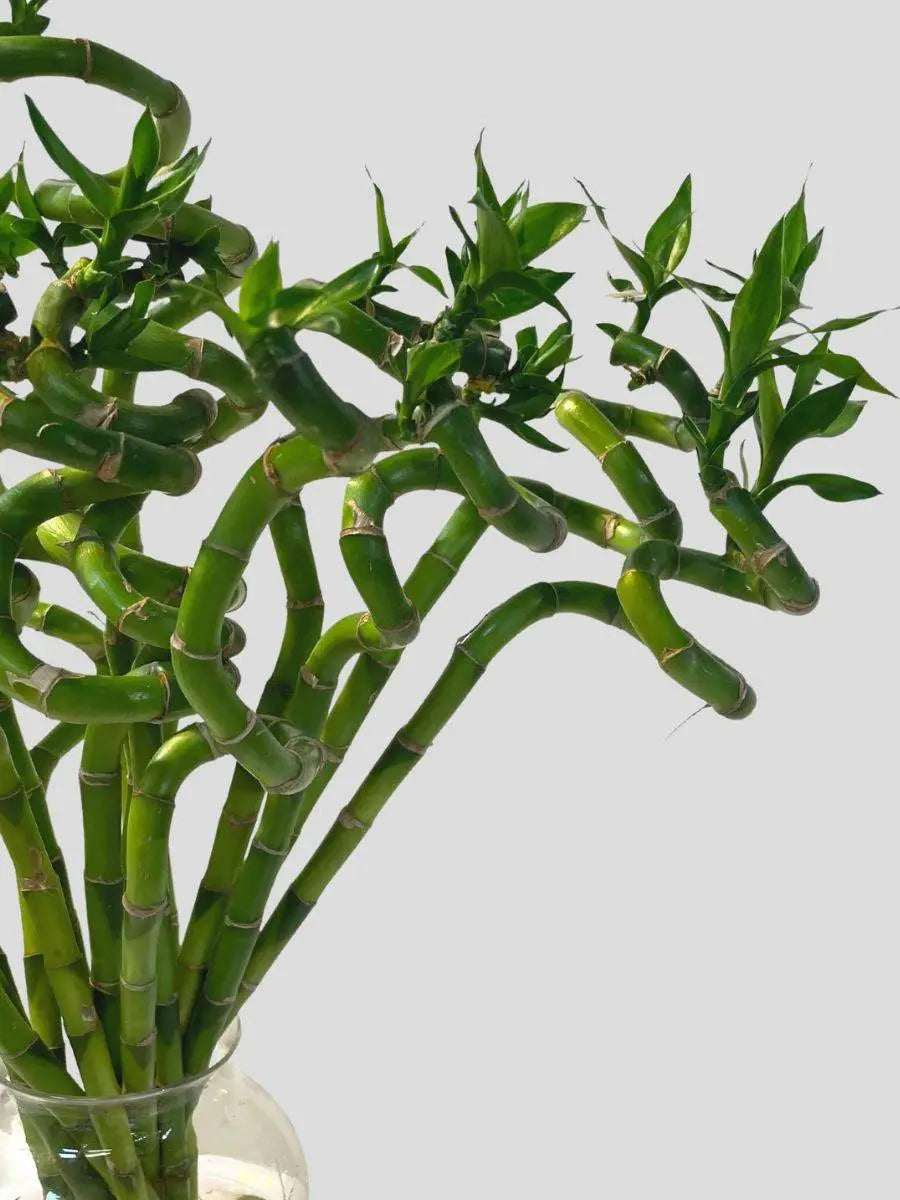 About Lucky Bamboo Plant
Lucky Bamboo, also known as "Dracaena Sanderiana", "Goddess of Mercy's plant", and "ribbon dracaena", is a succulent plant native to Africa. It has bluish-green leaves and thick, fleshy stalks. Its tall stalks and finely divided leaves make it a multipurpose plant with many health and aesthetic benefits.

In Chinese, it is known as Fu Gwey Zhu, which translates to "Lucky Bamboo." The lucky bamboo plant is revered as a powerful symbol of good fortune due to its rapid growth & resilience. It is also a traditional feng shui remedy that helps move trapped energy & promote chi (pleasing vibes) flow in homes & businesses.

To help you relax & feel more at peace with the world around you, try placing some white pebbles in a tall glass vase, and place some lucky bamboo sticks in the vase. The number of lucky bamboo sticks to place in the vase is an important factor, and you can read about the lucky bamboo number significance on this page to gain more insights and make an informed decision.

Your chi (energy) will improve whether you offer it as a present, receive it as a gift, or display it in your home or workplace.
Buy Lucky Bamboo Plant Online
Are you looking for low maintenance plants for your home? Buy lucky bamboo online today as they are the most revered plants for home. Known for their air-purifying abilities, hardy nature, and feng shui significance, lucky bamboo plants are not only a perfect addition to one's home, but also a perfect plant to gift to someone.
Dracaena Sanderiana, commonly known as Lucky Bamboo, is an indoor plant that comes in the form of sticks. These lucky bamboo sticks have a number significance attached to them, and different numbers of lucky bamboo sticks have different benefits. You can buy lucky bamboo plant by choosing the number of sticks and the length of each stick. Buying lucky bamboo online on Greenkin is simple and effortless.
History of the Bamboo Plant
Bamboo
, a plant deeply associated with humans, has been revered as a god, teacher, friend, soul mate, & a vital part of the daily lives of rural & tribal populations. Bamboo is considered a good luck charm, offering youth, flexibility, & love. It symbolizes consistency & integrity, growing straight, upright, & green every season.
Bamboo has been used in literature, poetry, & painting due to its commanding & dignified appearance. In some Asian cultures, humanity emerged from a bamboo stem.
In India, bamboo is called Kalpavriksha (divine tree) for its numerous daily uses. The first direct reference to bamboo in Indian literature is in the "Rig Veda'' (5000 BC). Bamboo is symbolic of constancy, fidelity, integrity, & purity, inspiring emotional & spiritual life.
In China, bamboo is considered a friend, symbolizing gentleness & modesty. Bamboo's significance extends to its role in the daily lives of rural & tribal populations, ensuring their cultural, traditional, social, & economic requirements.
Lucky Bamboo & 5 Feng Shui Elements:
Feng Shui suggests that having lucky bamboo in your home can balance your life by combining elements of water, fire, earth, wood, & metal. An arrangement of Lucky Bamboo plants may achieve this balance by:
1. Water:
The lucky bamboo container must always be filled with water to flourish.
2. Fire:
Tie a red (or other fiery) ribbon around your plant's pot or vase to represent fire.
3. Earth:
Substitutes for soil include rocks, stones, & clay.
4. Wood:
A bamboo stalk is a representation of wood since it is made of wood.
5. Metal:
Grow a bamboo plant in a glass container or plant a metal coin (for example, silver, copper, bronze, gold, or brass) in the soil.
Stalks of Lucky Bamboo: Number, Meaning, & Significance
Did you know that a bamboo plant's number of stalks can hide different secret messages? Yes, these messages can help a person be more successful. According to traditional Chinese philosophy, the number of bamboo stalks in a plant determines the quality of the positive energy that will be drawn to the space. The more stalks there are, the greater the blessing of good fortune & luck.
Therefore, knowing the significance of the number of stalks & properly placing them will help you enhance the benefits of the lucky bamboo & create a more pleasant, harmonious setting.
The number of bamboo plants in Feng Shui has various meanings, including:
Meaning and significance of 1 lucky bamboo stalk:
A single stalk of lucky bamboo symbolizes strength & fortune.
The promise of continued success makes this plant a popular choice as a business gift, particularly among enterprises.
Meaning and significance of 2 lucky bamboo stalks:
Two bamboo stalks symbolize love & relationships.
Two stalks of lucky bamboo are often given as gifts to life partners, friends, & family members to express their love. When placed in your own space, they can bring love energy to your relationships & double your luck.
Meaning and significance of 3 lucky bamboo stalks:
(most popular)
Three bamboo stalks are a powerful arrangement in feng shui & symbolize happiness (Fu), long life (Soh), & wealth (Lu) (career promotions).
The Cantonese word "three" (sāam) resembles "sāang," meaning "to be born or live", indicating a positive energy vibe. This is why lucky bamboo arrangements have such pleasant feelings.
Meaning and significance of 4 lucky bamboo stalks:
(not often given)
There is no four-stalked bamboo plant in Chinese culture, & giving one as a present is impolite since the term four sounds like death.
Avoid four-stalk arrangements, since the number four has the same negative meaning & attracts sha chi (bad energy).
Meaning and significance of 5 lucky bamboo stalks:
A five-stalk bamboo plant attracts a healthy vibe, & it helps you maintain wellness on all fronts (emotional, intuitive, mental, physical, & spiritual).
Meaning and significance of 6 lucky bamboo stalks:
Six bamboo sticks are a sign of success & luck because six is a multiple of three, which means it has the same luck-bringing energy as three twice.
Meaning and significance of 7 lucky bamboo stalks:
Seven bamboo stalks are a lucky number in feng shui & Chinese culture, representing the balance of all aspects of chi energy.
They bestow good health & can bring harmony to any space, as they represent the combination of the five chi elements plus "yin & yang" (ward off negative energy).
Meaning and significance of 8 lucky bamboo stalks:
The number eight, which means "prosper, grow, or thrive" in Chinese, has a profound impact on the law of attraction.
Eight-stalk arrangements also improve fertility & represent business success & prosperity.
Meaning and significance of 9 lucky bamboo stalks:
A nine-stalk symbolizes success, luck, & well-being. It attracts energies to areas where they are most needed, as it is a multiple of three, which triples the good fortune associated with a 3-stalk arrangement.
In feng shui, nine also signifies the high point in a cycle (the last stage of a process or journey).
Meaning and significance of 10 lucky bamboo stalks:
The 10 Stalks Lucky bamboo is a symbol of completion or perfection, representing the balance of all aspects of Chi energy. Chinese culture & feng shui associate the number 10 with the completion of a cycle, achievement, & satisfaction.
Giving or receiving a 10-stalk bamboo plant symbolizes the sender's desire for the receiver to live their best life.
Meaning and significance of 21 lucky bamboo stalks:
The 21 stalks of Lucky bamboo symbolize stable wealth & health.
The lucky bamboo with 21 stalks is also a sign of safety & wealth. It combines the lucky numbers 3 & 7 to bring seven times more happiness & good energy.
The Benefits of Lucky Bamboo:
Lucky Bamboo plant brings Luck, Happiness, & Health to your living space:
Bamboo plants provide luck & happiness to the premises. They're great for special occasions as both a gift & a table centrepiece. The quantity of bamboo stalks you grow together affects this, for example, 8 or 9 stalks are considered good luck & having three bamboo stalks together brings happiness.
Lucky bamboo has a high Aesthetic Value:
Lucky Bamboo plants grow nicely inside & outdoors. It also looks appealing in the garden, increasing your home's aesthetic value. You may combine several kinds of bamboo plants together for a more visually beautiful arrangement, or you may provide lucky bamboo to twist & curl in various ways.
Lucky Bamboo has great Air-Purification abilities:
Lucky bamboo plants are great for cleaning the air in your home or office since they remove carbon dioxide while producing fresh oxygen. They are effective in removing benzene & other airborne pollutants, making them great for use in bedrooms & other indoor spaces. Lucky Bamboo plant is a Dracaena, and all Dracaena plants are know to be excellent air purifying plants.
Lucky bamboo plant requires Low-Maintenance:
Lucky Bamboo is drought-resistant & perennial, making it simple to grow both indoors & outdoors. There is no need to worry about under- or over-watering these plants since they can be grown in either potting soil or a glass container filled with water.
Lucky Bamboo plant has Cognitive Benefits:
Plants like bamboo, which represent wood in the five elements of nature, are said to promote mental equilibrium. Planting Lucky Bamboo in water with coins & stones & then tying the stems together with a red ribbon creates an atmosphere of serenity.
Other Health Benefits of Lucky Bamboo:
Lucky Bamboo plants can also help you stay healthy by bringing in the right Vastu elements, lowering the risk of diseases. To promote health, plant five bamboo stems of any kind in a pot. Bamboo plants also help with digestion, as fresh leaves can be crushed & boiled to make tea, which is rich in silica & has been shown to have positive effects on overall health. Silica can aid in nutrient absorption, gas reduction, cholesterol reduction, & blood cleansing by reducing gas, lowering cholesterol levels, & cleansing the blood.
Read more: Health and Vastu Benefits of Lucky Bamboo
Lucky Bamboo: How to Curl & Shape It
Lucky bamboo, a naturally stick-straight plant, can be curled with skill & care. To curl the lucky bamboo stalks:
1. Place Lucky Bamboo in a cardboard box with a hole in one side, positioned towards a light source. This encourages growth towards the bright side.
2. Wait for the plant to develop towards the light, & then gently bend it to get the desired curves.
3. Monitor the bamboo & rotate it to get light from the opposite direction if it bends. To make a new bend, spin the plank about an inch in the same direction. The ideal conditions for Lucky Bamboo are indirect light & temperatures between 65 & 90 °F.
4. If growing in water, maintain constant root coverage by adding new water every seven to ten days.
Also Read: How to Grow Lucky Bamboo Plant
The Best Spot to Set Up Your Lucky Bamboo:
Lucky Bamboo can attract positive chi energy wherever it is placed, with the best direction being in the east or southeast corner of the house. The southeast direction is best for activating positive energy.
Lucky Bamboo Plant Care: What to Adopt or Avoid
Follow these 4 ways to care for a lucky bamboo plant at home or work:
1. Pick a vase with a minimum of 2 inches more width than the plant, & adorn it with polished pebbles & stones.
2. Consider keeping the plant indoors & using clean water.
3. Remove any leaves that have turned yellow, & change the water at least once every 15 days.
4. Avoid direct sunlight & having anything negative near the plant, such as clutter, dust, or filth.
Read detailed care guide here: How to care for a Lucky Bamboo Plant
Send Your Loved Ones A Lucky Bamboo Plant!
Lucky Bamboo as a business gift:
Given as a token of appreciation between competing enterprises, "lucky bamboo" has been a staple of Chinese commerce for ages. This is an ideal present for openings, anniversaries, & other success celebrations.
Lucky Bamboo as a festive present:
Giving a lucky bamboo plant is a thoughtful gift for friends & relatives, especially on special occasions like birthdays, Christmas, Diwali, or the New Year. However, it can also be given without waiting for a specific occasion.
Lucky Bamboo as a Gift to Wish You Well:
As a kind of good luck, lucky bamboo is often given to the sick (accident, illness, surgery) & the grieving, as it represents healing & new strength.
Lucky Bamboo as a Wedding & Housewarming Present:
Sending the happy couple or new homeowners a lucky bamboo plant is a creative way to send your best wishes for their future health, wealth, & longevity.
Explore other good-luck plants to gift: Top 8 Good luck plants for a meaningful and memorable gift
THE GREENKIN EXPERIENCE

Healthy Plants
Healthy plants handpicked from finest nurseries across India
Premium Planters
All our plants come in premium hand-made decor-worthy planters

Quality Assurance
All plants are inspected for health and fullness by plant experts

Lifetime Support
Get lifetime support for every plant from horticulturists