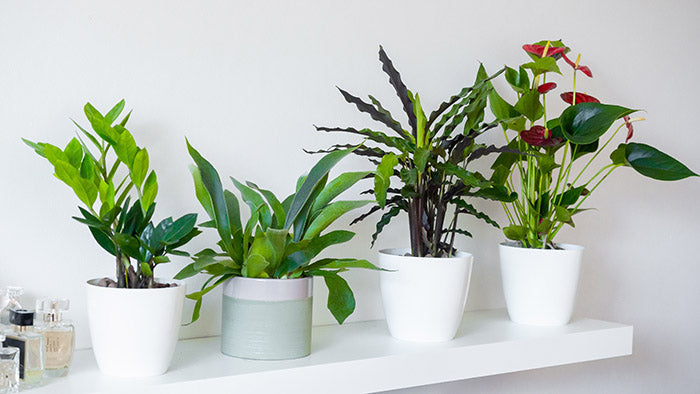 Buying Table Plants in India?
Want your tables to stand out with Table Plants? Explore great design ideas and healthy plants to add to your tables.

Whether you are looking at plants for your coffee table, or your work desk, or a corner table, Greenkin brings to you a wide collection of premium potted plants that can be an instant addition to your tables. Read our FAQs below to get a fair idea on which plants to buy and what factors to consider while buying table plants.

Table plants can add a variety of emotions to your décor, from making your place calm and relaxing to creating a cheerful and creative vibe. Because of this, there is a wide range of options that you can consider for table plants. Browse through our collection and choose a table plant that matches your room's décor.
Table plants bring positivity, and are used to boost creativity, to add calmness, to make a place cozier, or to create happy and cheerful vibes.
FAQs for buying Table Plants in India
What type of table plants should I buy?


Table plants add charm to your space by adding texture and color. If you are planning to buy plants for your tabletop, then consider the following points before making the purchase:

1. Light: It is important to check how much natural light your table gets in a day. In case there is no direct sunlight, or only morning sunlight for a couple of hours, then you can look at the list of indoor plants. However, in case the tabletop receives more amount of direct sunlight, you should check the list of outdoor plants and the plants for balconies.

2. Purpose: What is the first image that comes to your mind when you think about table plants? Are you looking to add colors to your table, add large green leaves, add small plants in premium planters, create a modern design for your table, build a table for boosting creativity, add plants to make your place cozier, or just add calmness and relaxation to your tabletop? Your purpose will determine the type of table plant you should buy. When you browse through our collection of table plants, you can read detailed information about each plant on their pages. We have tried to add this info to help you make a more informed choice.

3. Space: While buying table plants, you should also consider the overall space the plants will have for their growth. Some table plants grow as high as 4 to 5 feet. In case you have smaller space, look for small plants like Bromeliad, Aglaonema, Prayer Plant, Jade Plant, and Succulents.


Which are the best table plants?


While there are hundreds of great table plants, here is a list of our staff picks:

1. Calathea: Known for its hardiness, Calathea has become a favored indoor plant globally owing to its colored and patterned foliage. They come in many varieties. One such variety, the Prayer Plant, is characterized by its red veins on oval leaves. Prayer plant's leaves fold during the night and open up during the day, giving the plant its unique name.

2. Pothos: Commonly known as Money Plant, Pothos come in many varieties with small to medium-sized leaves with various color options. They add an instant glow to your tabletop and also bring a host of air purifying capabilities. The plant is known to produce Oxygen at night as well. It filters harmful toxins like Benzene, Formaldehyde, and Carbon monoxide.

3. Heart-leaf Philodendron: Placed by NASA in their list of top 10 Air Purifying Plants, Heart-leaf Philodendron is a hardy plant that does great in indoor settings. They come in various colors, and have a moderate growth rate adding a few leaves every growing season. Philodendron Oxycardium adds leafy foliage, so they can be best placed at the corners of tables.

4. Syngonium: Syngonium are well-known for their feng shui benefits. They come in many varieties, and are hardy plants that can survive in moderate indirect light conditions. Syngonium can add a lot of color to your table since they have large colored leaves. They are also known to filter toxins like Benzene, Formaldehyde, Xylene, and Toluene.

5. Philodendron Ceylon: Another Philodendron in this list is the neon-colored Ceylon. It has large leaves and adds a fluorescent green glow to your space. Ceylon is a hardy plant and requires low maintenance, making it a great addition to your table. Note that Ceylon is a climber and grows well with moss poles.

6. Peperomia: Often called Baby Rubber Plant, Peperomia is a low-maintenance plant with thick waxy leaves. They hail from tropical climates, and so are well suited to Indian homes.

7. Snake Plant: One of the hardiest plants, the Snake Plant is a perfect addition to any table. They take less space and add a good texture to the décor. Snake Plants are known for their amazing air-purifying abilities. Like Pothos, they too produce Oxygen throughout the day and the night.

8. Kalanchoe: Kalanchoe's are must-have flowering plants for your table. They come in various colors, and have long-lasting blooms. Note that Kalanchoe need bright indirect light, so if you feel that they are not keeping healthy, then they should probably be moved over to windowsills.

9. Peace Lily: Peace Lily adds a layer of calmness to your table. The plant fits perfectly into any décor, and produces beautiful white flowers. Note that the plant needs bright indirect light for blooming. A little bit of direct sunlight would be good for healthy blooms.

10. Begonia: Begonia are perennial flowering plants that are well-suited for tropical climates. Many varieties of Begonia are grown indoors in India. Begonia requires bright indirect light and does well in humid conditions. It is a good practice to spray water on its leaves every once in a while.


How should I style my table with table plants?


Table plants are a great way to spruce up your tables and make them stand out. Here is what our Plant Stylist recommends:

Styling your tables depends a lot upon the type of table that you are styling. A work table can be decked up with a Pothos, a Prayer Plant, a Philodendron, and a few Succulents, while a coffee table can be filled with a Peace Lily, a Kalanchoe, a Syngonium, and an Aralia.

For a table that has a wall on one side, one can have a hanging plant like English Ivy, Pothos, Monstera Adansonii, or Broken Heart Philodendron placed in a 4 to 5-inch planter and placed at a table's corner near the wall. The plant, as it grows, will start hanging from the side of the table giving the table a unique look. By the side of the hanging plant, one can place a Prayer Plant or any other Calathea. In front of these 2 pots and plants, place a smaller pot with a succulent in it.

Now that a corner of the table looks fuller and greener, use the space near the other corner, a little away this time, and place a ZZ Plant, or a Philodendron Ceylon, or a Snake Plant. If your table receives bright indirect sunlight, you could also keep a Peace Lily and an Orchid to add vibrant colors.


Are there any benefits of adding table plants?


Yes, there are multiple benefits of adding table plants to your home. Table plants are known to uplift one's mood, and are used for different purposes like boosting creativity, making a place cozier, bringing calmness and relaxation, or creating happy and cheerful vibes. Plants are known to be therapeutic and have a significant effect on one's mental health.

Moreover, table plants purify the indoor air. removing toxins like benzene, xylene, formaldehyde, acetone particles, carbon monoxide, and toluene. They also reduce the dust particles in the air thereby preventing itchy skin and eyes and dry cough. Table plants make the indoor air more breathable by also adding more oxygen to your indoor environment.


Which are the best table plants for coffee table?


Are you looking for table plants for your Coffee tables? We have compiled a list of plants that will create a great impact on your mood while you sip a hot cup of coffee!

1. Orchid: Add a vibrant dash of color by placing an Orchid on your coffee table. Just ensure that the plant receives bright indirect light for healthy blooming.

2. Peace Lily: Place a Peace Lily in the center of the table and have a peaceful sip of coffee. The serene white flowers need bright indirect light to bloom.

3. Money Plant Manjula: A not-so-common variety of Money Plant or Pothos, Manjula makes for an eye-appealing structure on your coffee table with its variegated waxy foliage.

4. Aralia: Adds a calmness to your coffee table. Add a pair of Aralias as they grow in small planters.

5. Kalanchoe: Add different colors of Kalanchoe to your table and make your coffee table a place for creative ideas.

6. Philodendron Ceylon: Keep a Philodendron Ceylon at the center of your coffee table and make the table stand out with this neon-colored foliage plant. Give your coffee table a touch of the Tropics!

7. Prayer Plant: It cannot get more peaceful than watching the red-veined leaves of a Prayer Plant while sipping your coffee. The plant calms you and makes for a relaxing environment.

8. Peperomia: This baby Rubber Plant helps you focus by creating a non-obtrusive yet thick foliage. Add a couple of varieties of Peperomia to get the complete look.

9. Bromeliad: Creativity for your coffee table. This plant adds bright Pink to bright Red colors to your space, bringing out the creator within you.

10. Dracaena Compacta: Known for its tropical vibes, this plant feels at place for all occasions. It does like to take up some space, so placing it in the corner of the table is a good idea.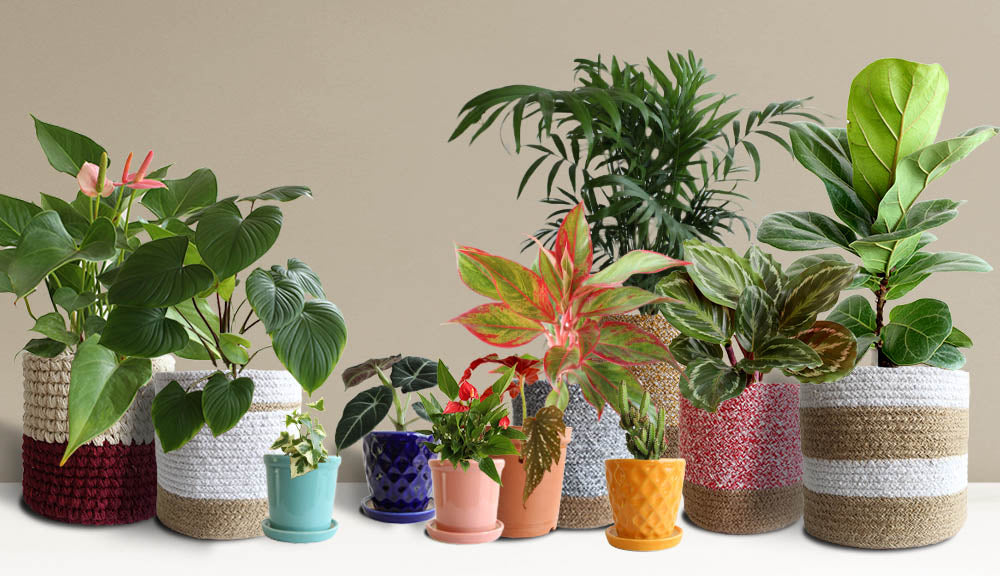 Exceptional Table Plants
Planning to buy table plants? Welcome to Greenkin - the only place to buy premium potted plants for all your needs, handcrafted by passionate plant people.

Greenkin procures all plants (from the small succulent varieties to large mini-trees) from the finest growers across India. Each plant is carefully inspected for health, fullness, and size and then selected by Greenkin.

For table plants, we use a rich soil mix. The soil mix is prepared by Greenkin and has a healthy mix of cocopeat, perlite, garden soil, and vermicompost. Also, table plants are fertilized at the time of shipment.

We not only put extreme care into growing healthy table plants but also in packaging the plants for online delivery. We understand the importance of the right packaging when shipping live plants. So when you shop table plants online with Greenkin, you rest assured of the quality.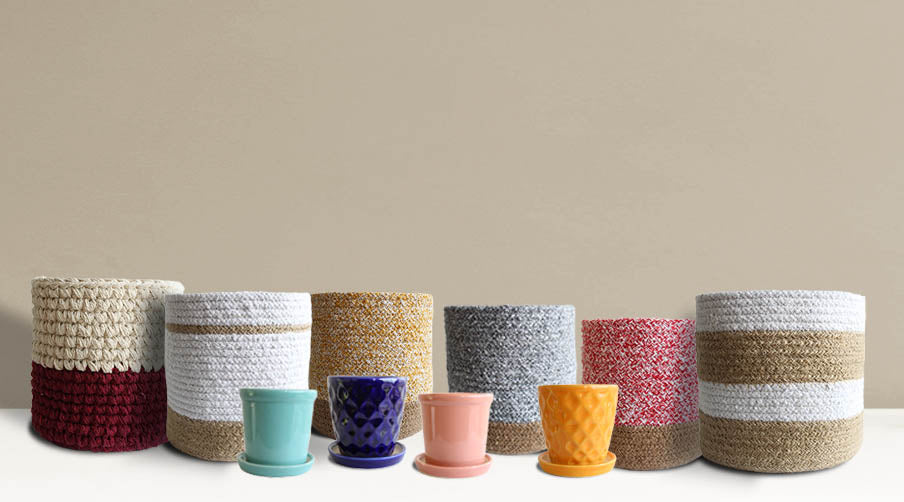 Premium Planters for Tables
Are you looking for the perfect premium potted table plants? Greenkin brings to you premium handcrafted planters that are size-matched with every plant you buy.

All table plants at Greenkin are double-potted with a grow pot and a premium planter, making it an instant addition to your table's décor. Also, this ensures that all our table plants have optimal air-flow and drainage. This arrangement makes the pots self-watering.

The planters for tables are prepared in small batches by highly skilled artisans from India. These planters are durable and extremely easy to clean, so they remain new for years.

Greenkin premium potted table plants are a perfect addition to your home décor, with every part of the product made by experts in India.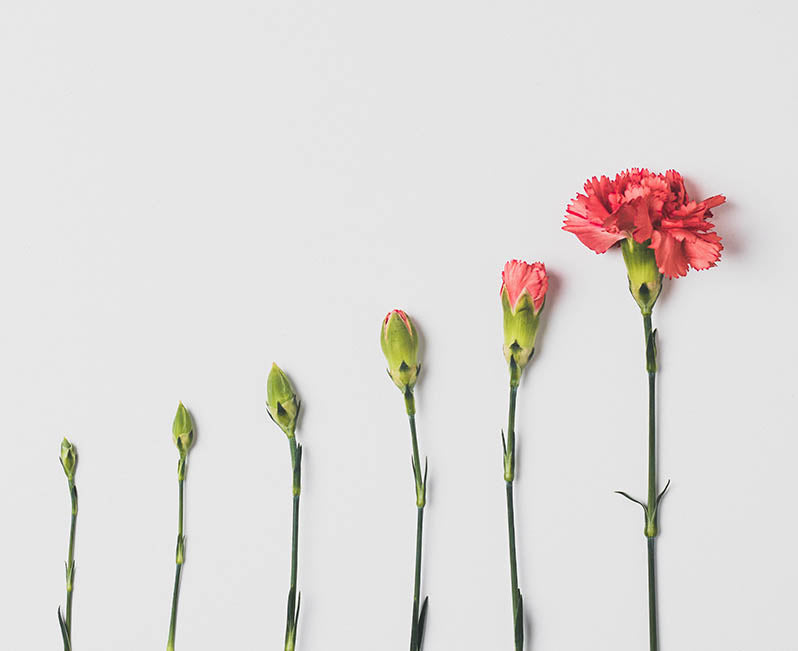 A Lifetime of Support
Are you buying table plants in India? Greenkin welcomes you to a unique experience of plantscaping that helps you visualize your space with the perfect premium potted plants.

At Greenkin, we believe in building relationships with our Customers, and we provide you with a lifetime of support to ensure that your plants remain healthy and your homes look good.

We have a team of horticulturists and plant doctors who guide you through every step of plant parenting. Plant care is a science that we master, more so when you are looking for table plants that become a part of your room décor, and you are in good hands when you buy plants from Greenkin.

We are known for our quality, and we aim to serve you with the best table plants in India. Try our service and experience the difference we bring.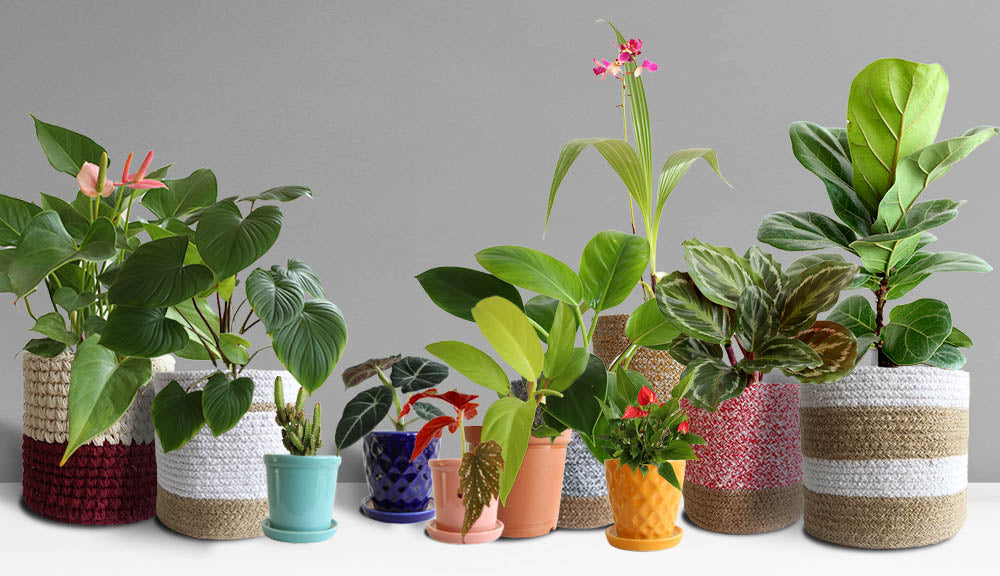 Large Collection of Table Plants
Whether you are planning to buy small succulents or medium-sized premium potted table plants, we have got you covered. Greenkin brings a rich variety of table plants for all your room décor needs.

Greenkin has categorized plants into small, medium, and large categories to make buying choices easier for people looking to buy table plants online in India.

For Customers who wish to buy table plants but are not sure which plants to buy, we provide guidance and plantscaping services. With Greenkin by your side, you never have to worry about finding the right plant for your home.

All our table plants come in varieties of premium planters, designed for your room's décor, which makes a complete set ready to be added to your room or for that perfect gift you wish to give to your loved ones.