Regular price
₹ 1,649
Sale price
₹ 1,236
Unit price
per
(25% Off)
Sold out
Choose a pot:
Dimensions:
View Our Size Guide
Estimated Delivery:
between 4 to 9 days all over India
A bold statement-making houseplant, Rubber Plant is a gorgeous plant to have at your home. The Rubber Plant Burgundy has thick, waxy, and oval-shaped leaves which are deep burgundy-dark green in shade almost resulting in a black plant. It is quite a low-maintenance plant that adds an eye-catching dimension to your space. Sized to shipping, our Rubber Plant Burgundy reaches you with room to grow as it becomes part of your home.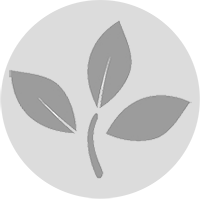 Healthy
Plants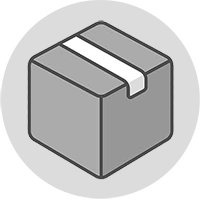 Secure
Packaging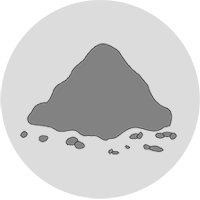 Superior
Soil Mix
Free Replacement if Damaged
Self-Watering & Double Potted
Location

Indoor, Partial Shaded to Shaded Outdoor
View full details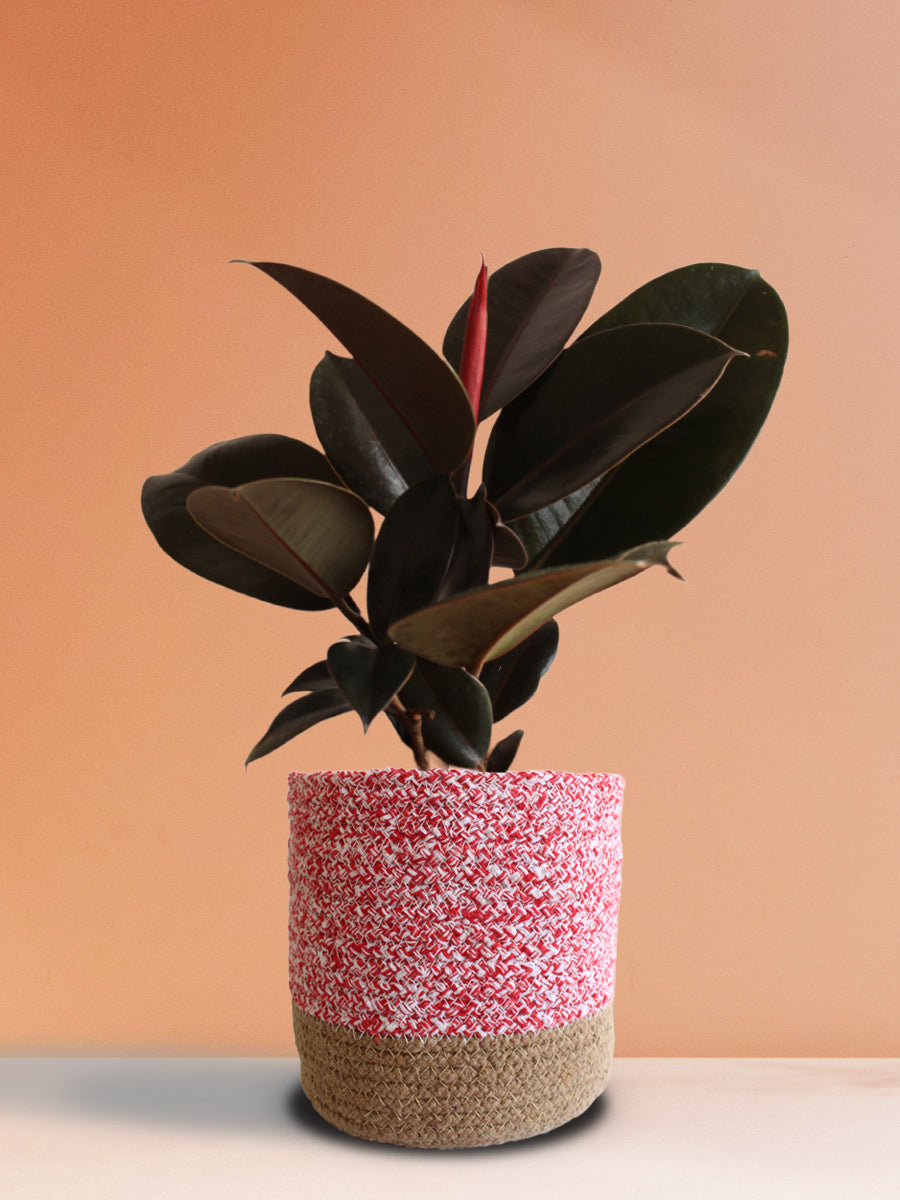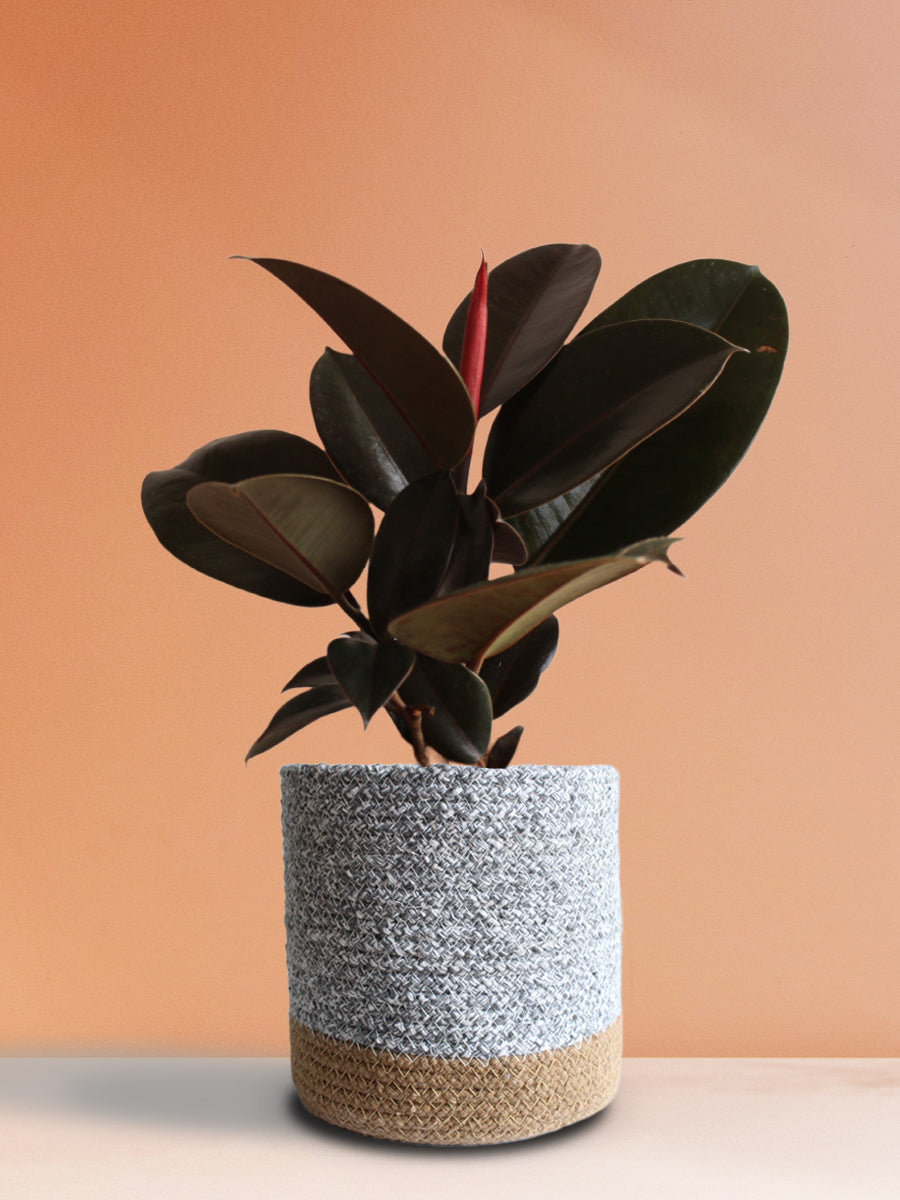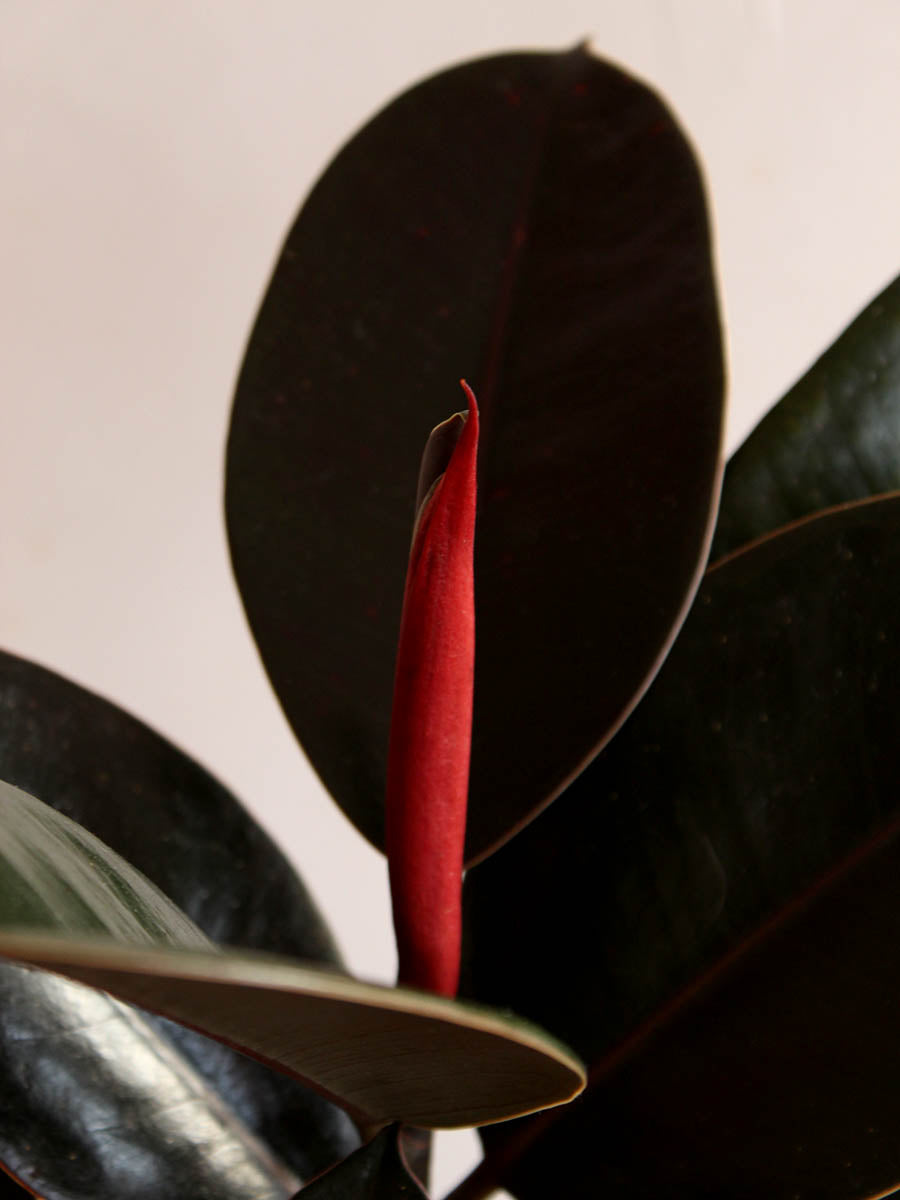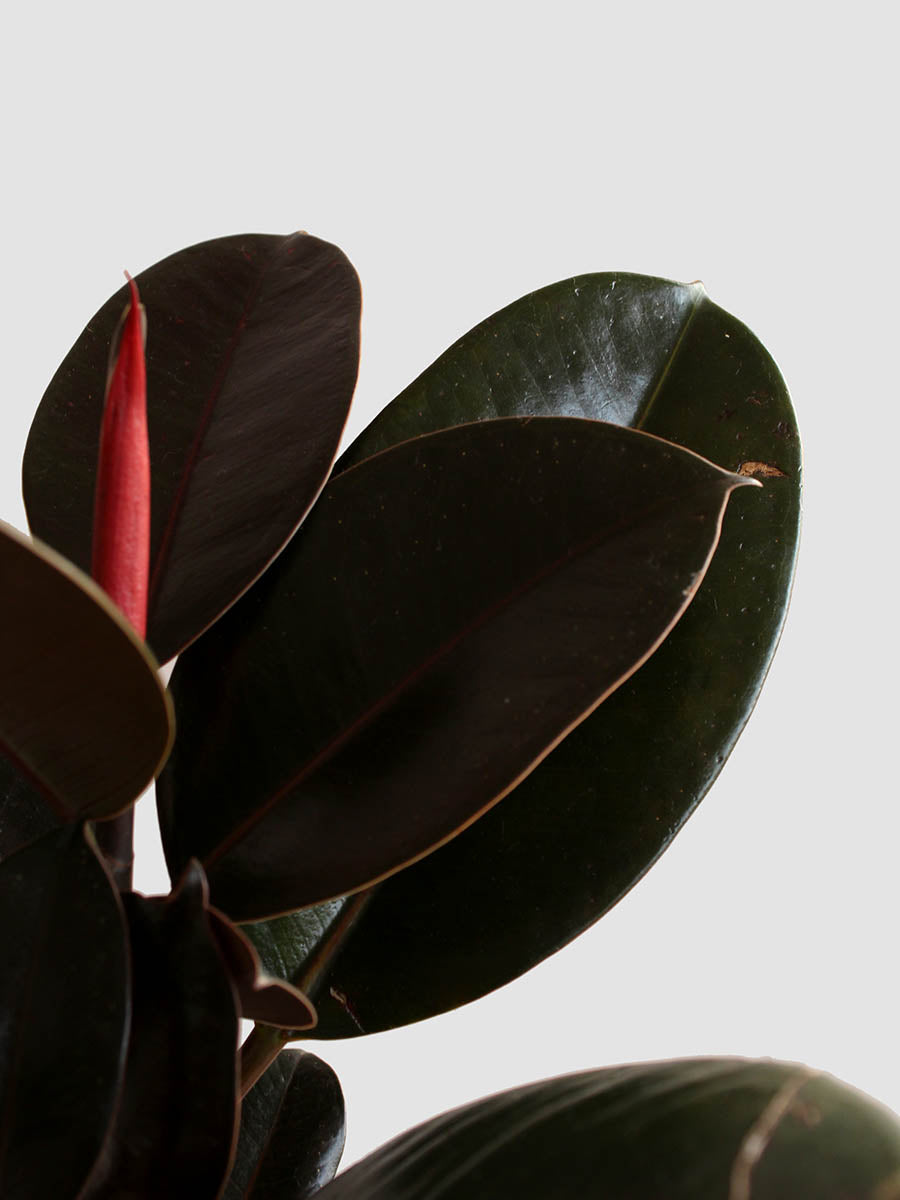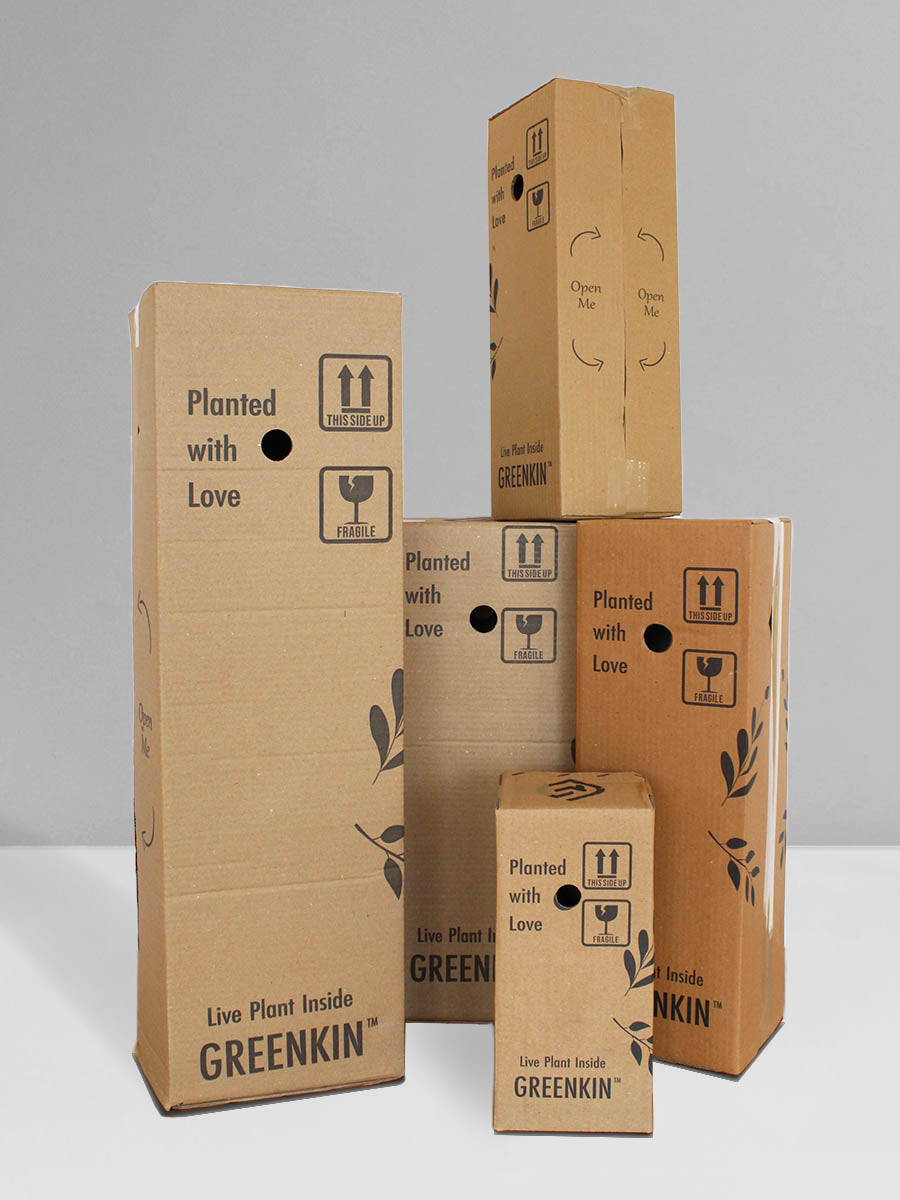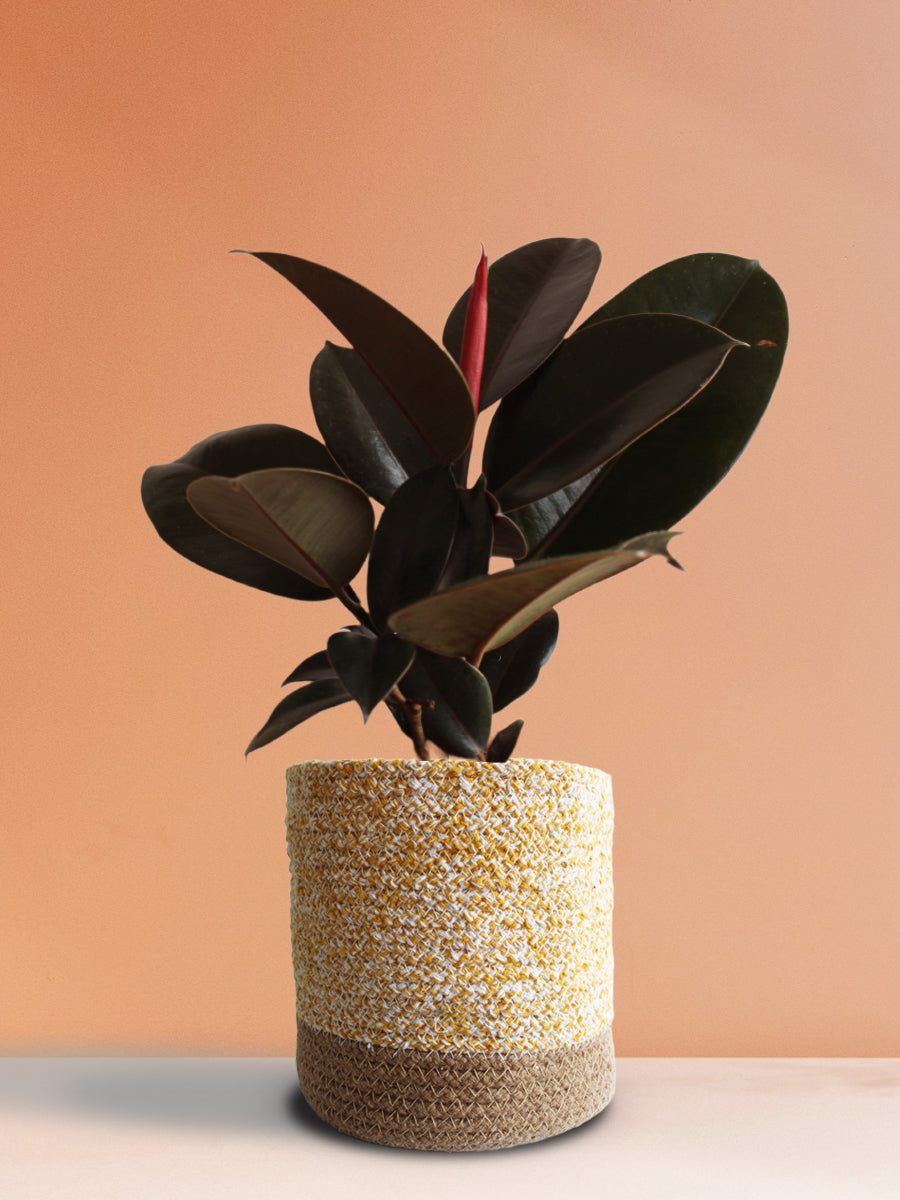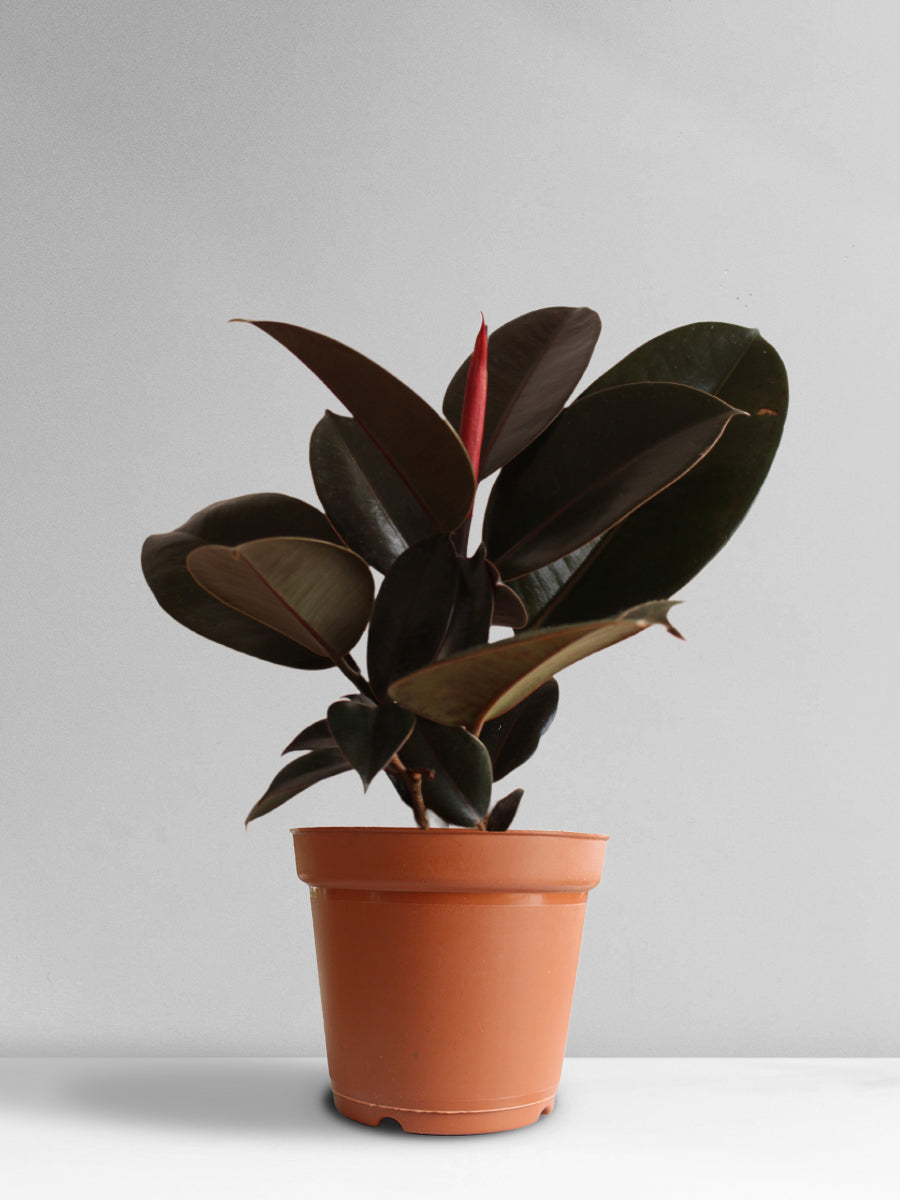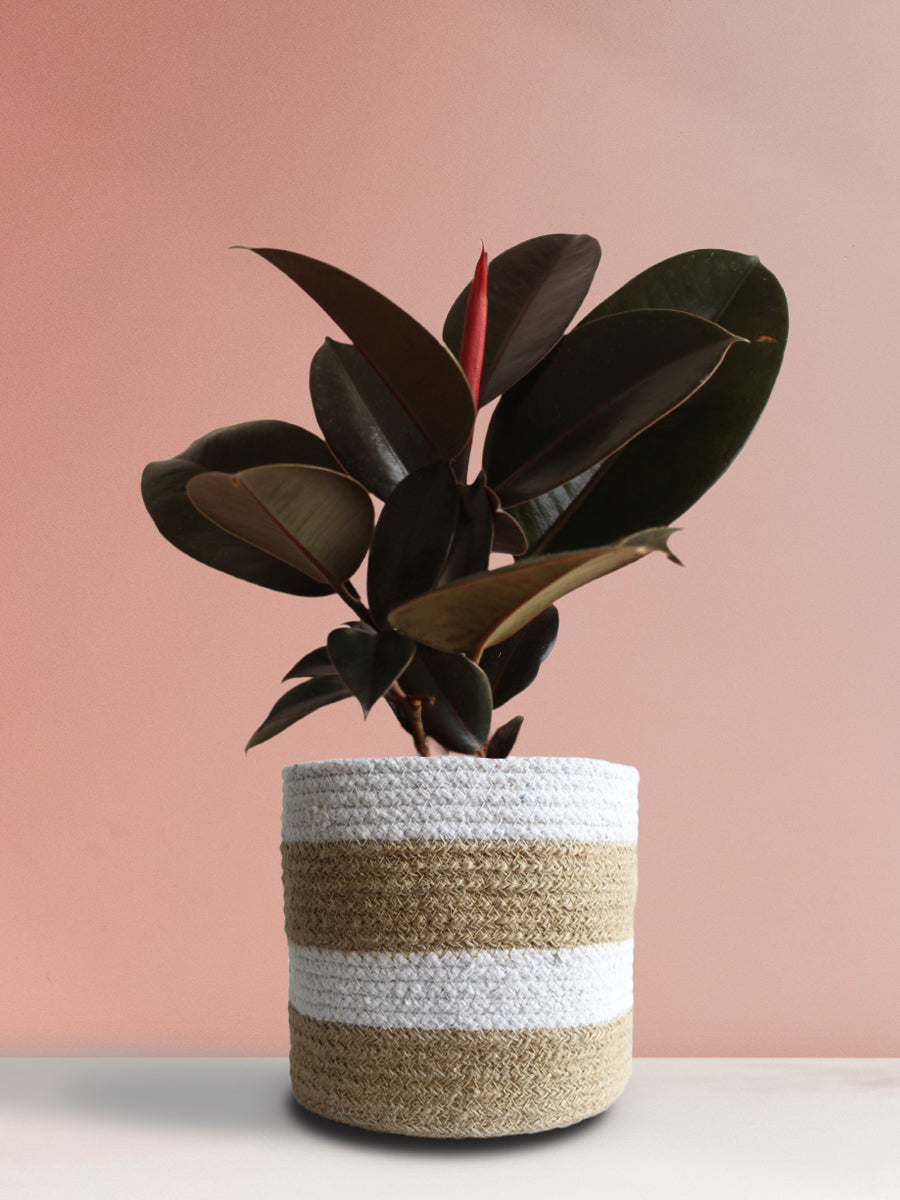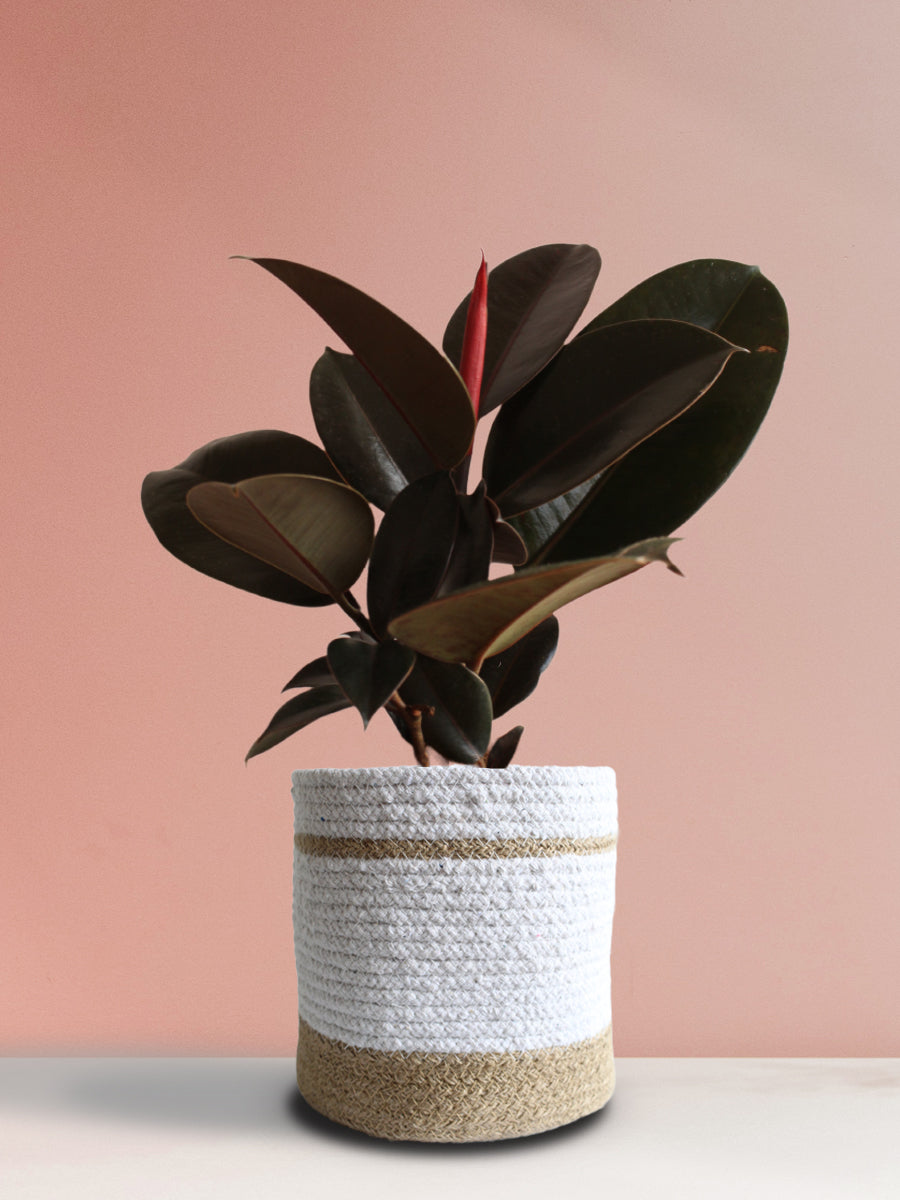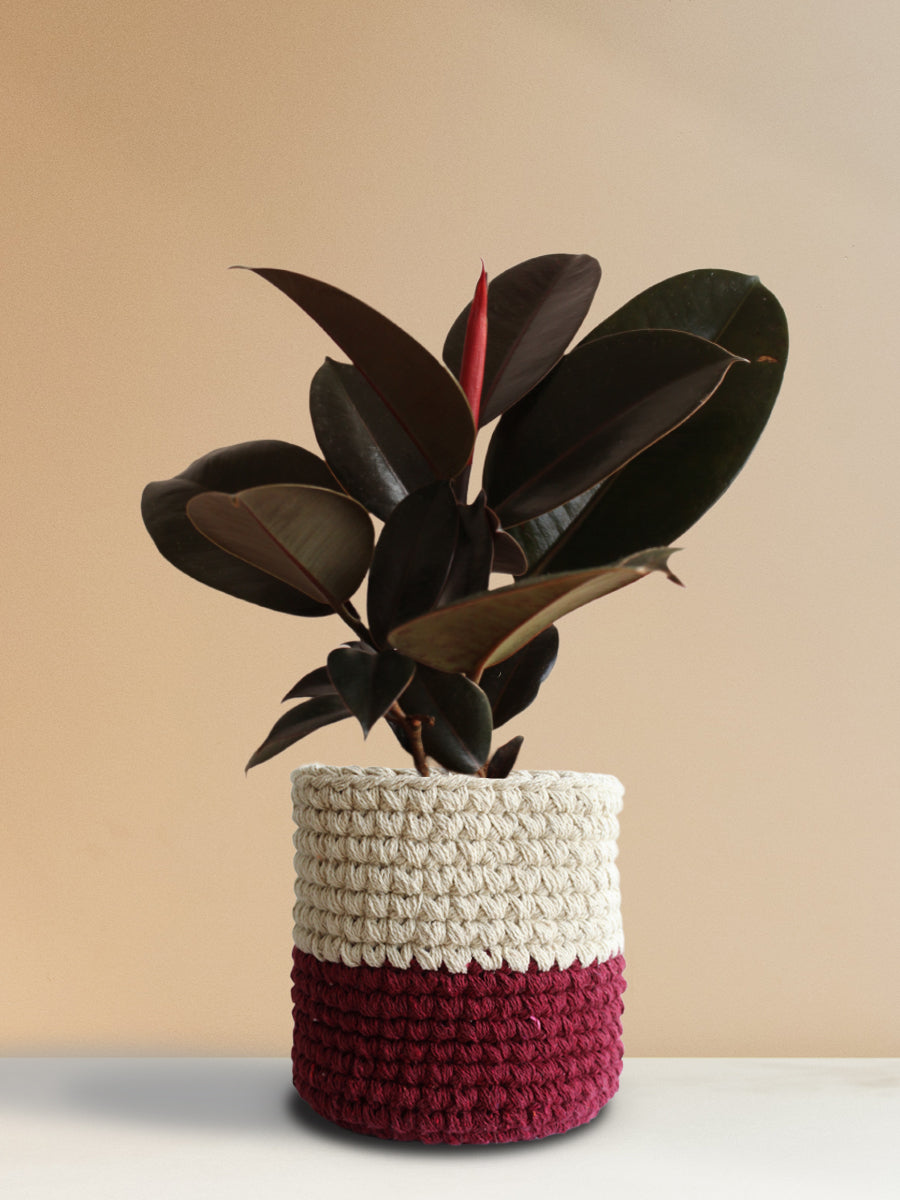 Size Guide
Because the height of plants varies, we use the width of the planters they come in for size.
About Rubber Plant Burgundy (Large)
With thick glossy leaves, the Rubber Plant Burgundy adds a bold dimension to your space that cannot escape your attention. The foliage is burgundy-deep green colored almost resulting in a black plant. The Rubber plant is native to rainforests of Southeast Asia and South America. In their native habitat Rubber plant grows into a tree reaching 50-100 feet in height and width. In containers, it could reach about 10 feet in height. A new growth has a bright red-pink color which deepens into deep green color. Also, the new leaves in the Rubber Plant Burgundy have bright pink veins which eventually fade away as the leaves age. Rubber Plant Burgundy loves bright light but would need protection from direct sunlight which could burn the leaves. It does well in bright indoor sections and partial to fully shaded outdoors which receive bright indirect and maybe some morning sunlight. Rubber Plant Burgundys are categorized as intermediate care level plants as they do need a little care in understanding the plants' needs and maintenance. With the right understanding of Rubber Plant Burgundy's care, they would be one of the long lasting and gorgeous additions to your home.
Keep In Mind

Rubber plant could be mildly toxic if consumed. Also, the milky sap which oozes after cutting/pruning could cause mild irritation.
The Trending 25
Shop our Bestsellers - The plants that everyone is buying
Care Guide for Rubber Plant Burgundy (Large)
Planning to buy Rubber Plant Burgundy (Large) online? Here is all you need to know.
Rubber Plant Burgundy thrives in bright indirect light indoors as well as partial to fully shaded outdoors which receive bright indirect and maybe some morning sunlight. It would need protection from harsh afternoon sunlight.
Rubber Plant Burgundy loves warmth and does well in room temperatures
Rubber Plant Burgundy needs to be watered once or twice a week as it likes to remain slightly moist. This could increase during summers and reduce during winters. Rubber Plant Burgundy does not like being overwatered though.
Burgundy Rubber loves high humid conditions. So, in dry weather you might need to mist the plant to maintain the humidity levels.
Rubber Plant Burgundy is not a heavy feeder and would need a mild fertilizer every three months or so and none during winters.
Rubber Plant Burgundy would need pruning during Spring and Summers to encourage branching. Also any dried out leaves could be pruned as and when required
Rubber Plant Burgundy would need repotting every two years or so
Rubber Plant Burgundy can be propagated via air-layering or cuttings
Losing leaves-
Overwatering, Change in location and/or light conditions

Yellow leaves-
Over/Under-watering

Soft/mushy leaves stem-
Overwatering, Root rot
Rubber plants are medium growers
1. Rubber plants help in purifying the air
2. Rubber plants are believed to bring in happiness and prosperity.
Light Guide For Plants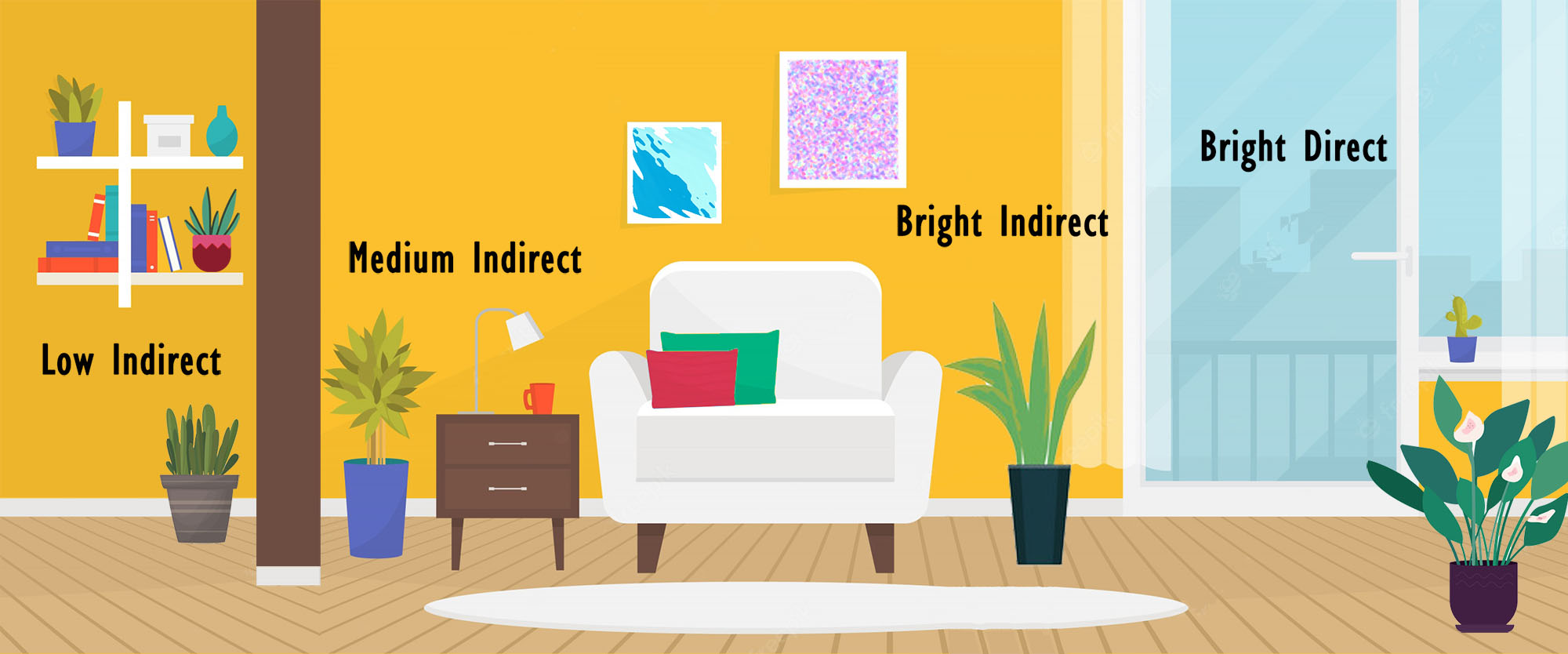 The Greenkin Experience

Healthy Plants
Healthy plants handpicked from finest nurseries across India
Premium Planters
All our plants come in premium hand-made decor-worthy planters

Quality Assurance
All plants are inspected for health and fullness by plant experts

Lifetime Support
Get lifetime support for every plant from horticulturists
5/5 Stars
I placed an order on 14th May, received it on 17th May in good condition. Thanks for timely delivery.
So Healthy ❤️
Received my Rubber plant with very large leaves. Beautiful plant. The white jute planter is perfectly matched.
Great packing and healthy plant. Service is also great.