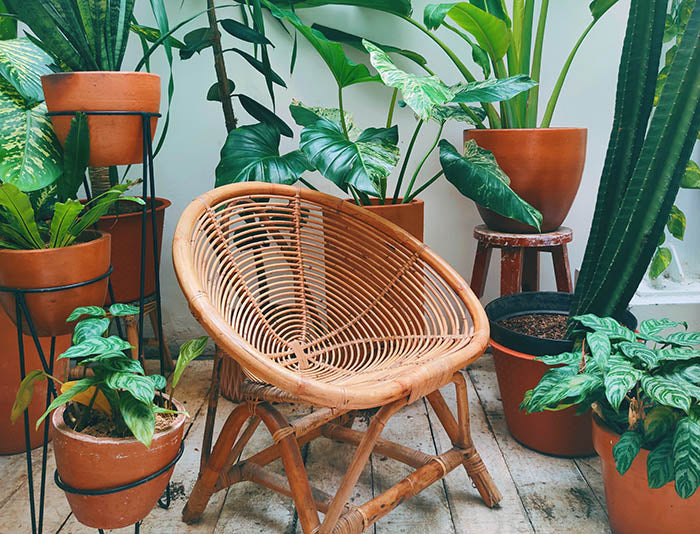 Buying Balcony Plants in India?
Searching for balcony plants to spruce up your balcony in India? Explore hundreds of options in our collection of plants that do well in both shade and direct sunlight.

Get tips on how to decorate your balcony with plants and browse the list of the best plants for balconies in India in our FAQs below. Balconies provide a great place for plants in your urban home. A mix of sun and shade helps plants to make enough food without getting their leaves burnt.

There are many balcony plants that you couthe the ld buy in India - Tall plants like Rubber Plant, Schefflera, and Ti Plant, medium-sized plants like Dieffenbachia, Croton, Eranthemum, and Copper Leaf, small-sized plants like ZZ Plant, Snake Plant, and Philodendron Ceylon, flowering plants like Hibiscus, Button Rose, and Euphorbia Milli, and hanging plants like Money Plant, English Ivy, Wandering Jew, and Philodendron Oxycardium. Read our FAQs below for a comprehensive list of flowering balcony plants and best plants for balcony.
8:00 AM + Coffee + Balcony + Flowering Plants = Best start for the day. 8:00 PM + Beer + Balcony + Rubber Plant = Best start for the night.
FAQs for buying Balcony Plants in India
What type of plants can I buy for my balcony?


Balconies are a great place for plants in urban homes. Plants make for great balcony décor and liven up the aura. Note the below points while converting your balcony into the perfect place for coffee and book reading.

1. Size of the balcony: Needless to say, the larger the balcony, more is the space to add plants. But did you know that you can create a jungle vibe even on a smaller balcony? The size of your balcony determines the size of the plants that you should buy. For example, a small 15 square feet (3 feet by 5 feet) balcony can accommodate 1 chair, 1 stool, 1 XL-sized (5-feet tall) plant, 2 Large 3-feet tall plants, 4 to 6 medium-sized (2-feet tall) plants, 8 to 12 1-feet small plants, and 4 hanging plants. For a larger balcony, you can add 1 XL-sized plant for every 2 square feet of additional area.

2. Sunlight settings of the balcony: While Indoor Plants love the shade, outdoor plants thrive in direct sunlight. So choose your plants based on the amount of sunlight your balcony receives. A general rule of thumb is to look for indoor plants if your balcony receives indirect light or a maximum of 3 hours of direct morning sunlight, and outdoor plants in case the balcony gets more than 5 hours of direct sunlight. So bright sunny spot deserves outdoor plants, and shaded areas deserve indoor plants.

3. Your experience level as a gardener: Check your experience level as a plant parent before buying balcony plants. If you are a beginner, it is best to buy robust and hardy plants like Snake Plant, Pothos, Philodendron Ceylon, ZZ Plant, and Rubber Plant. An intermediate-level gardener can look for plants that need a little more care and pruning, like Orchid, Purple Shamrock, Zinnia, and Peace Lily. If you are an expert gardener, then you can try out Gardenia, Poinsettia, Calathea, Kalanchoe, and Begonia.


Which are the best balcony plants in India?


For a comprehensive list of balcony plants, explore our collection of plants for balcony. For a quick list, check out our staff's Top 10 picks for the best balcony plants:

1. Rubber Plant: Great for indoors as well as outdoors, Rubber Plant is an ideal addition to a balcony. It gives a modern look with its large waxy leaves. You can buy a smaller-sized rubber plant and grow it up to an 8-feet tall plant in an 8-inch pot.

2. Copper Leaf: Also known as Jacob's coat, Copper Leaf Plant adds shades of color that resemble copper. Copper Leaf is a very hardy plant and can be grown via stem cuttings. It likes full sun, so it is best kept in bright sunny spots on the balcony.

3. Snake Plant: Like Rubber Plant, Snake Plant does well in shade as well as in the sun. It is an extremely hardy plant and comes in multiple variants. Snake Plant is also known for its excellent air purifying ability, and it is one of the few plants that produce oxygen during both the day and the night.

4. Button Rose: Roses are great for the Indian climate, but the downside of keeping roses on balconies is to deal with their thorns. To the rescue comes Button Roses, which don't have thorns on their stems. They are smaller than regular roses but bloom in a bunch making them extremely attractive.

5. Euphorbia Milli: Unlike the button rose, Euphorbia Milli does have thorns and is commonly known as "Crown of Thorns", "Christ Plant", and "Christ Thorn". However, handling a Euphorbia Milli is not difficult since it has a slender stem filled with long-lasting flowers on the top. The plant comes in various colors, pink being the most popular one.

6. Eranthemum: This flower-bearing plant has colored leaves, with the red-colored ones being the most commonly found. Eranthemums are hardy plants, like Copper Leaf, and like some sun and some shade, making them a great plant for balconies.

7. Ficus Benjamina: Commonly called Weeping Fig or Ficus Tree, Ficus Benjamina is the official tree of Bangkok. It provides a thick bush of waxy dark green leaves. They are tall plants and can be grown up to 5-feet to 8-feet tall in pots on balconies. In their natural habitat, they grow up to 100 feet tall.

8. Ti Plant: Cordyline Terminalis, commonly called Ti Plant, is a great addition to every balcony. It builds a tropical jungle vibe with its red to pink colored 1 foot-long leaves. The plant grows up to 6-feet to 7-feet tall in a pot, and is best kept in the corner of the balcony.

9. Croton: You would have seen Crotons across business parks and coffee shops around the city. They are hardy plants, and can instantly add yellow, green, white and red shades to your balcony. You can look for large leaves (Croton Petra), medium-sized leaves (Croton Captain Kidd), or thin slender leaves (Croton Golden Dust thin).

10. Schefflera: A mini-tree, Schefflera is a gorgeous balcony plant that can be grown up to 8 feet in a pot. It creates a bushy appearance and has a pattern of leaves that resembles an umbrella. The plant is also known as Umbrella Plant. You can either find a green variety or a variegated variety of Schefflera for your balcony.


How should I decorate my balcony with Plants?


Thinking of design ideas for your balcony? Our plant stylist suggests adding comfortable seating before adding the plants. Once the seating is decided, you can estimate the space you have for adding plants. Below is what our Plant Stylist recommends for decorating balconies with plants:

Buy 1 or 2 XL (5-feet tall) plants for corners near the wall. The best bet is to add a Ti plant for a tropical vibe or a Weeping Fig for a modern vibe. Next to the XL-sized plant, keep a large (3-feet tall) plant. Go for Dieffenbachia, Philodendron Ceylon, Croton, or Copper Leaf Plant. Next is to add multiple medium and small plants around the XL and large plant combo. Choose either green foliage, colored foliage, or flowering plants as per your taste.

Now that one of the corners in your balcony is designed, buy another large plant for the diagonally opposite corner. This should cover the plants that you can keep on the floor. Now you can add hanging planters from the railing, or shelves on the wall for more plants. Add Pothos, Wandering Jew, Turtle vine, and Philodendrons to create a dreamy appearance.


What are the best flowering plants for balcony?


Flowering plants are generally seasonal, but there are perennial flowering plants as well that you could look at for your balcony.

To add colors to your balcony, let us first explore a list of perennial flowering plants that not only survive all the weather conditions in India but mostly bloom throughout the year. You can buy flowering balcony plants like Hibiscus, Button Rose, Euphorbia Milli, Ixora, Jasmine, Adenium, Allamanda, Vinca, and Bougainvillea.

Now that you have year-round blooming, look for some seasonal flowering plants for your balcony. During winter, add colorful flowers like Aster, Salvia, Petunia, Pansy, Ice Plant, Gazania, and Dahlia. For summers, buy Zinnia, Cosmos, and Phlox.


What are some beginner level plants for balcony?


Are you a beginner at gardening? A balcony is a great place to start your plant parenting journey. Balconies generally provide a mix of shade and direct sunlight, and so most of the plants grow well on balconies.

As a beginner, add some hardy plants to your balcony, like Snake Plant, ZZ Plant, Rubber Plant, and Ti Plant. You could also look at some flowering plants like Euphorbia, Hibiscus, and Vinca. For creating a bushy effect, add Weeping Fig, Croton, and Copper Leaf plant. You can also explore good hanging plants like Pothos, English Ivy, and Wandering Jew.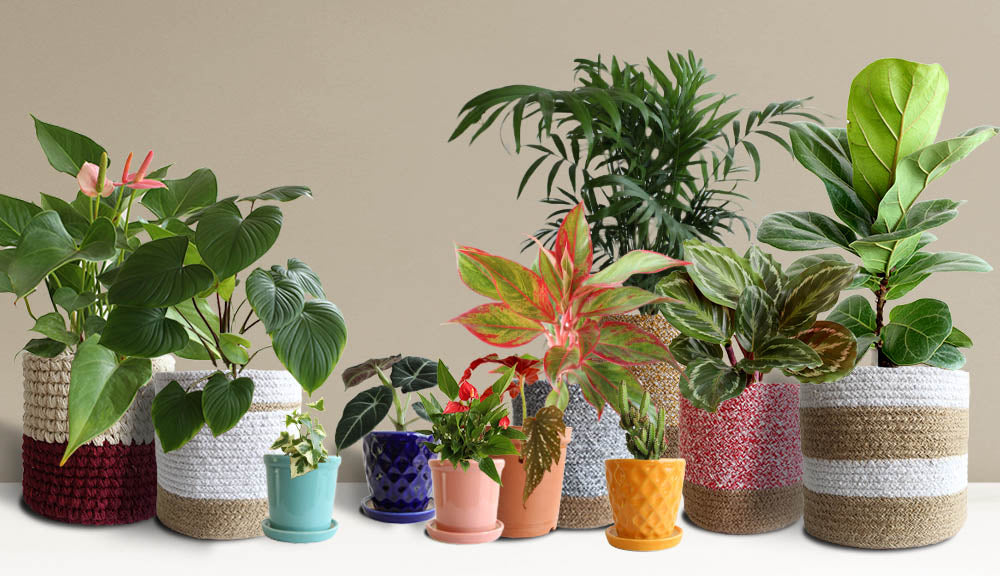 Healthy Balcony Plants
Looking for balcony plants online in India? You have arrived at your destination, Greenkin - the only place to buy premium potted plants for all your needs, handcrafted by passionate plant people.

Greenkin procures all plants from the finest growers across India. Each plant is carefully inspected for health, fullness, and size and then selected by Greenkin.

For balcony plants, we use a rich soil mix. The soil mix is prepared by Greenkin and has a healthy mix of cocopeat, perlite, garden soil, and vermicompost.

We not only put extreme care into growing healthy balcony plants but also in packaging the plants for online delivery. So when you shop plants for balcony online with Greenkin, you rest assured of the quality.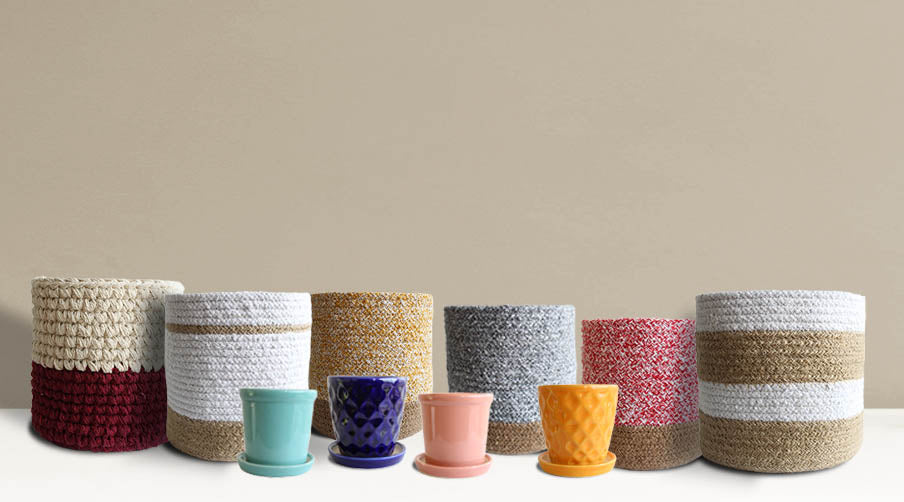 Premium Pots for Balcony Plants
Are you searching for the perfect premium potted balcony plants? Greenkin brings to you premium handcrafted planters that are size-matched with every plant you buy.

At Greenkin, all plants for balconies are double-potted with a grow pot and a premium planter, making them an instant addition to your balcony décor. Also, this ensures that all our balcony plants have optimal airflow and drainage. This arrangement makes the pots self-watering. For plants that are potted in 4-inch or below pots, like succulents, double potting is avoided to let the soil dry and avoid root rot.

Our planters are prepared in small batches by highly skilled artisans from India. These planters are durable and extremely easy to clean, so they remain new for years.

Greenkin premium potted balcony plants are a perfect addition to your home, with every part of the product made by experts in India.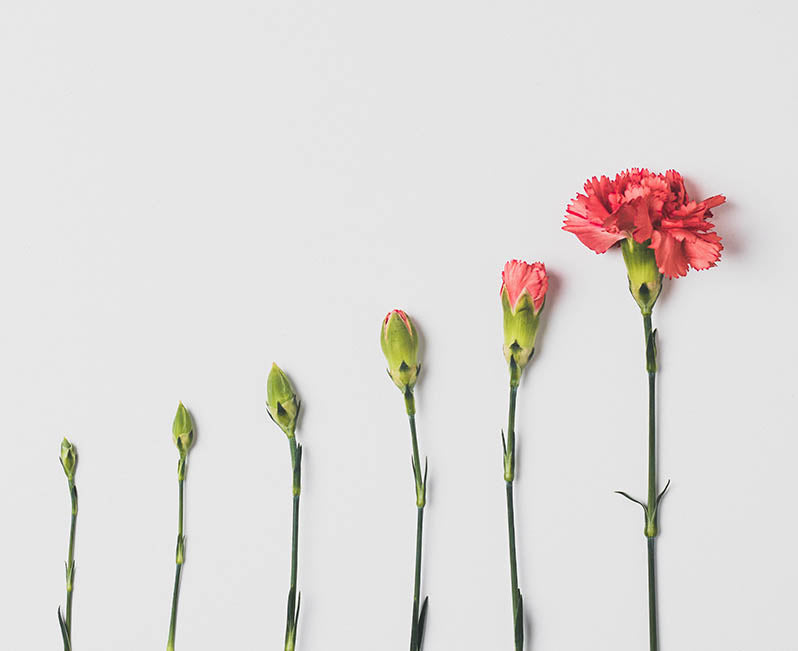 A Lifetime of Support
Are you adding plants to your balcony décor? Greenkin welcomes you to a unique experience of plantscaping that helps you visualize your space with the perfect premium potted plants.

At Greenkin, we believe in building relationships with our customers, and we provide you with a lifetime of support to ensure that your plants remain healthy.

We have a team of horticulturists and plant doctors who guide you through every step of plant parenting. Plant care is a science that we master, and you are in good hands when you buy plants from Greenkin.

We are known for our quality, and we aim to serve you with the best plants for balconies in India. Try our service and experience the difference we bring.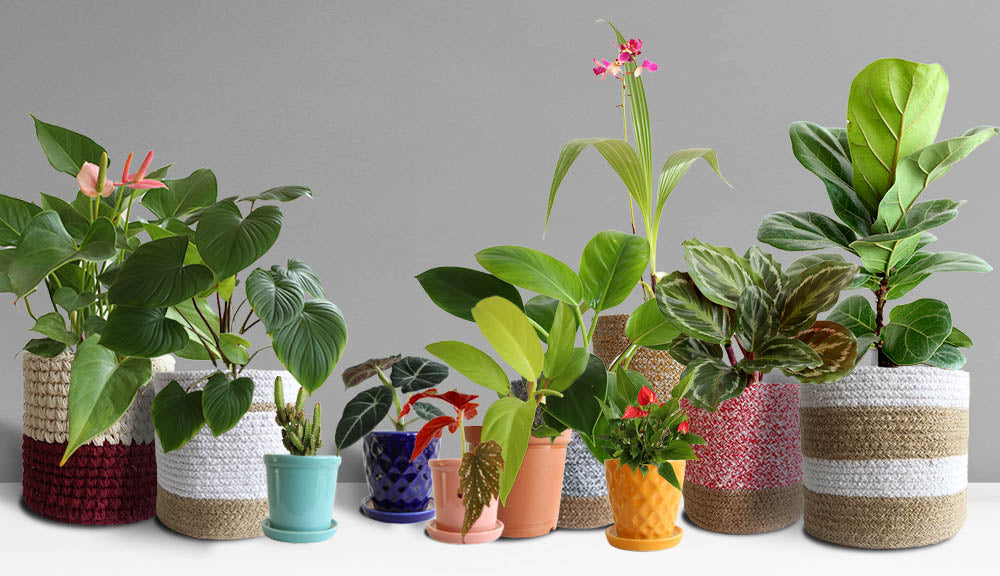 Large Variety of Balcony Plants
Whether you are planning to buy 5-feet tall plants, or small and medium-sized balcony plants, we have got you covered. Greenkin brings a rich variety of plants for all your balcony decoration needs.

Greenkin has categorized plants into small, medium, and large categories to make buying choices easier for people looking to buy plants for balcony online in India.

For Customers who wish to buy balcony plants but are not sure which plants to buy, we provide guidance and plantscaping services. With Greenkin by your side, you never have to worry about finding the right plant for your balcony.

All our plants come in varieties of premium planters, designed for your home décor, which makes a complete set ready to be added to your balcony or for that perfect gift you wish to give to your loved ones.