Regular price
₹ 3,499
Sale price
₹ 2,799
Unit price
per
(20% Off)
Sold out
Choose a pot:
Dimensions:
View Our Size Guide
Estimated Delivery:
between 4 to 9 days all over India
A stunning plant, the Fiddle-Leaf Fig plant is probably one of the most photographed plants making it to a lot of magazine covers. Fiddle-Leaf-Fig has large waxy deep green leaves resembling the shape of a violin. It makes an architectural statement whenever and wherever placed in a room. With a little care and attention, Fiddle-Leaf-Fig can last for years and add to the aesthetic appeal of your space. Sized to shipping, our Fiddle-Leaf Fig plant reaches you with room to grow as it becomes part of your home.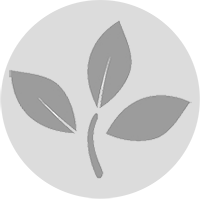 Healthy
Plants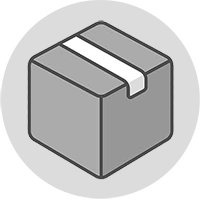 Secure
Packaging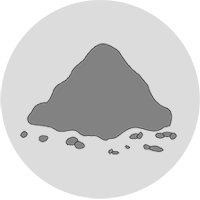 Superior
Soil Mix
Free Replacement if Damaged
Self-Watering & Double Potted
Location

Indoor, Partial Shaded to Shaded Outdoor
View full details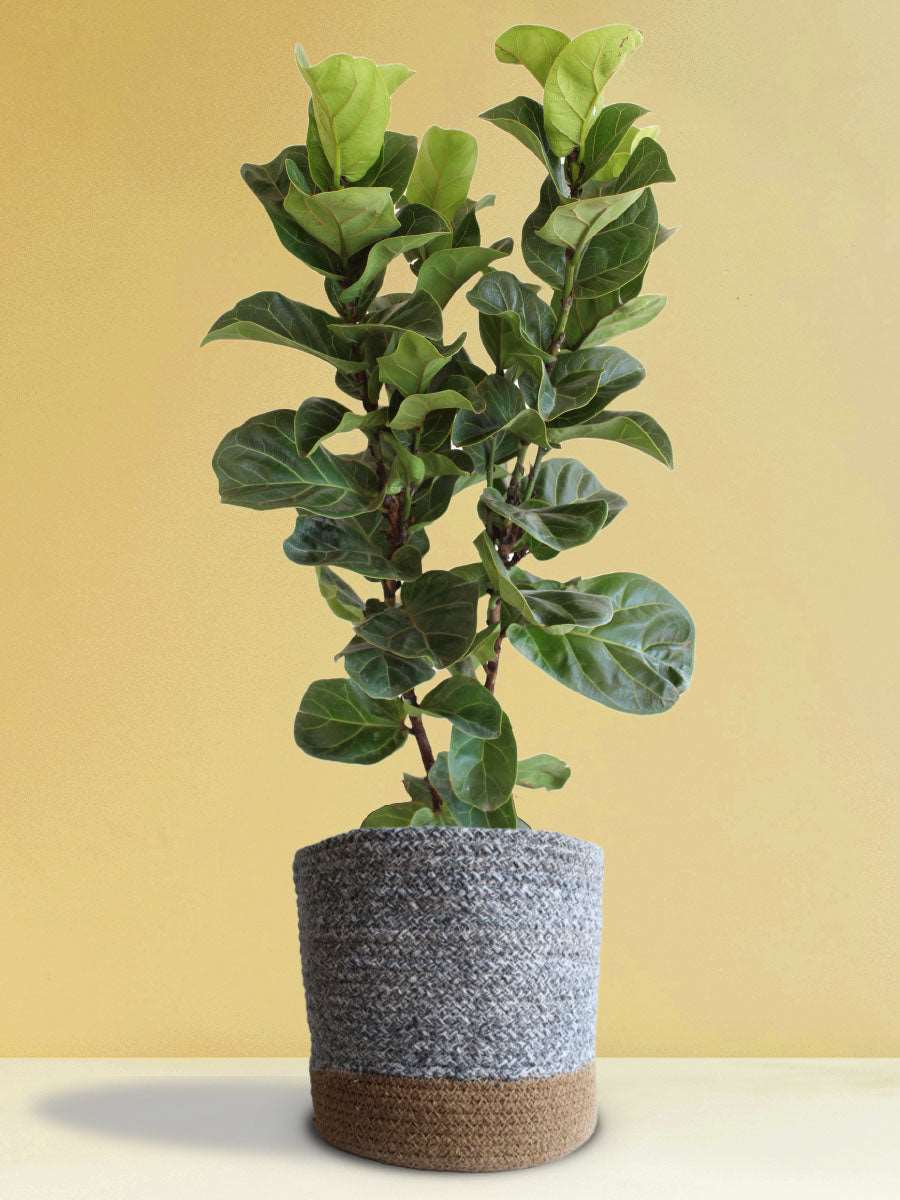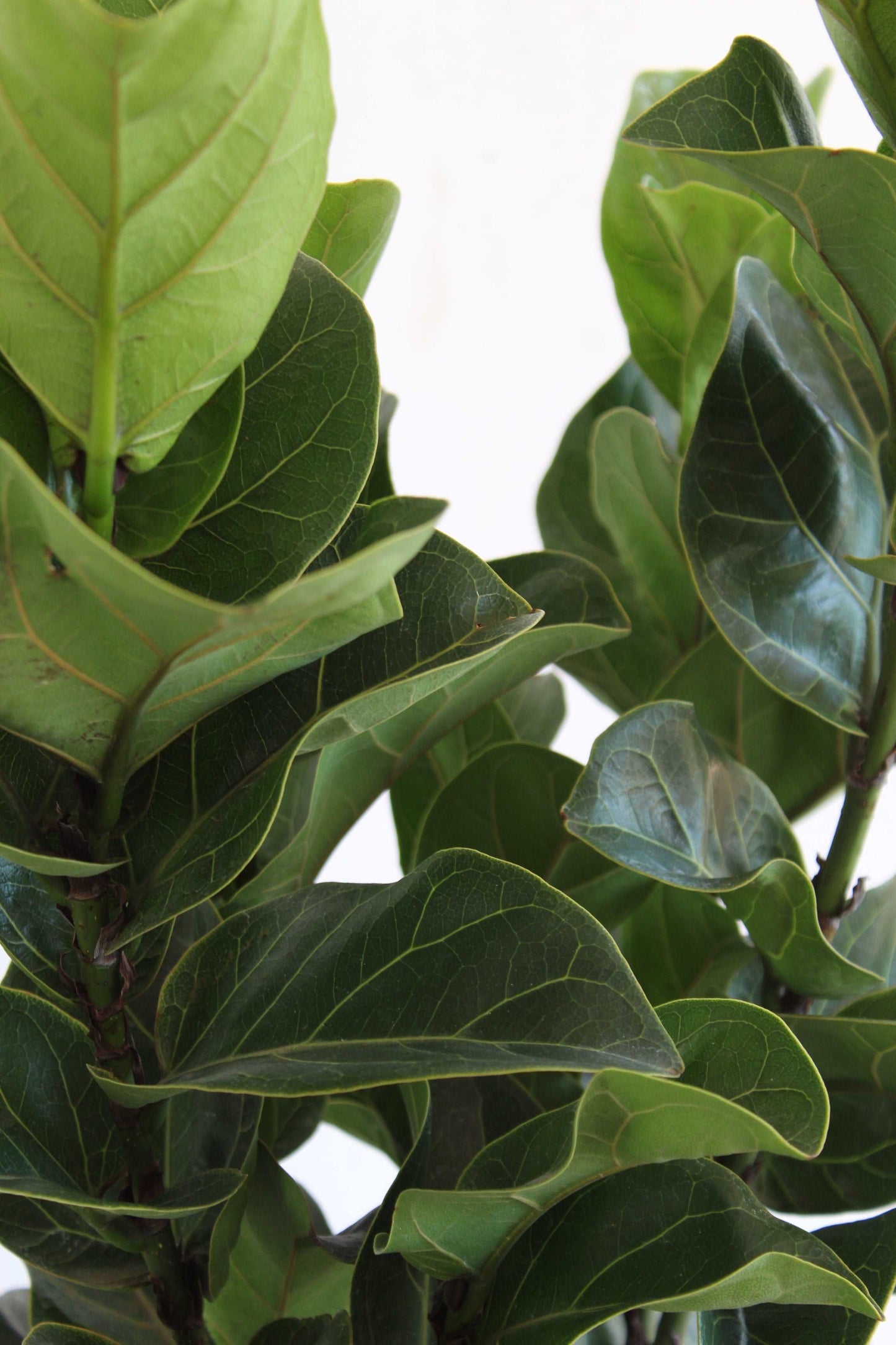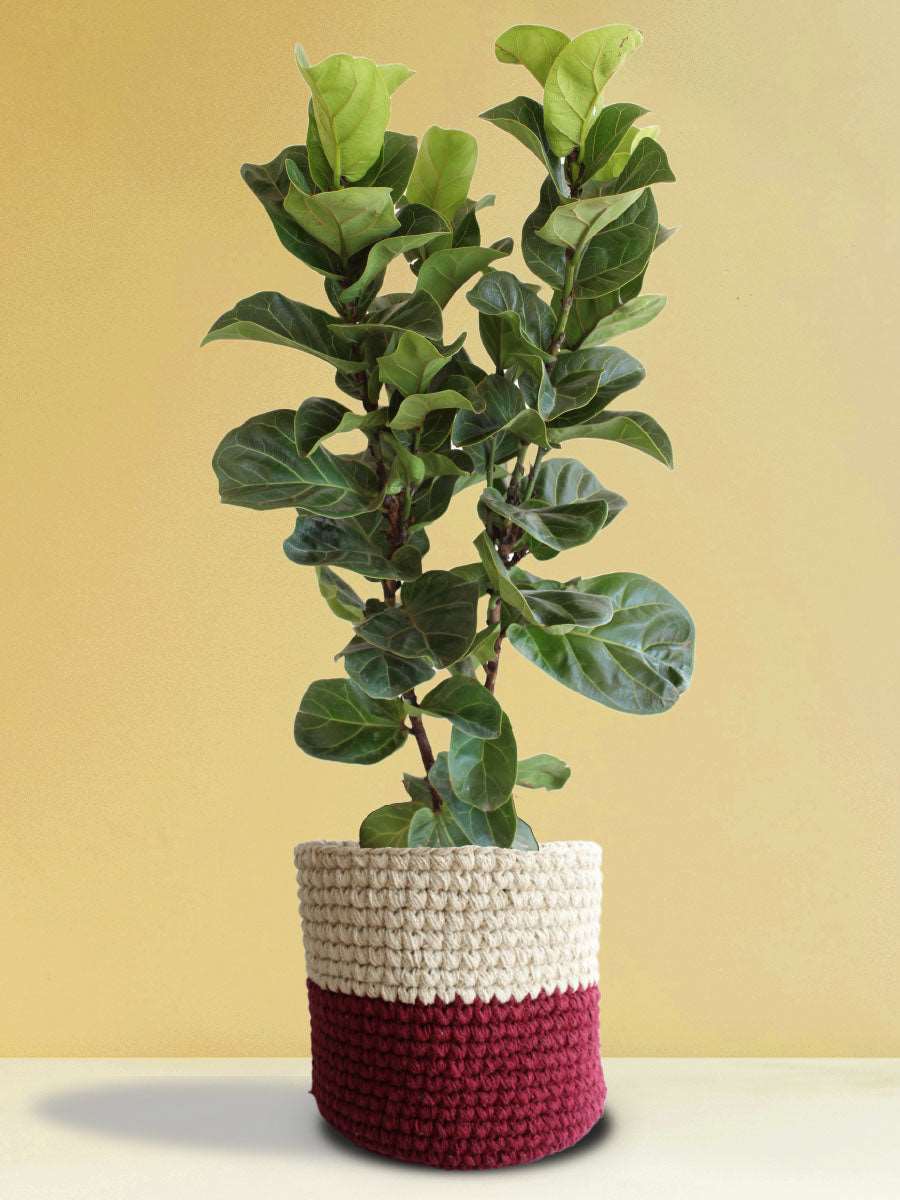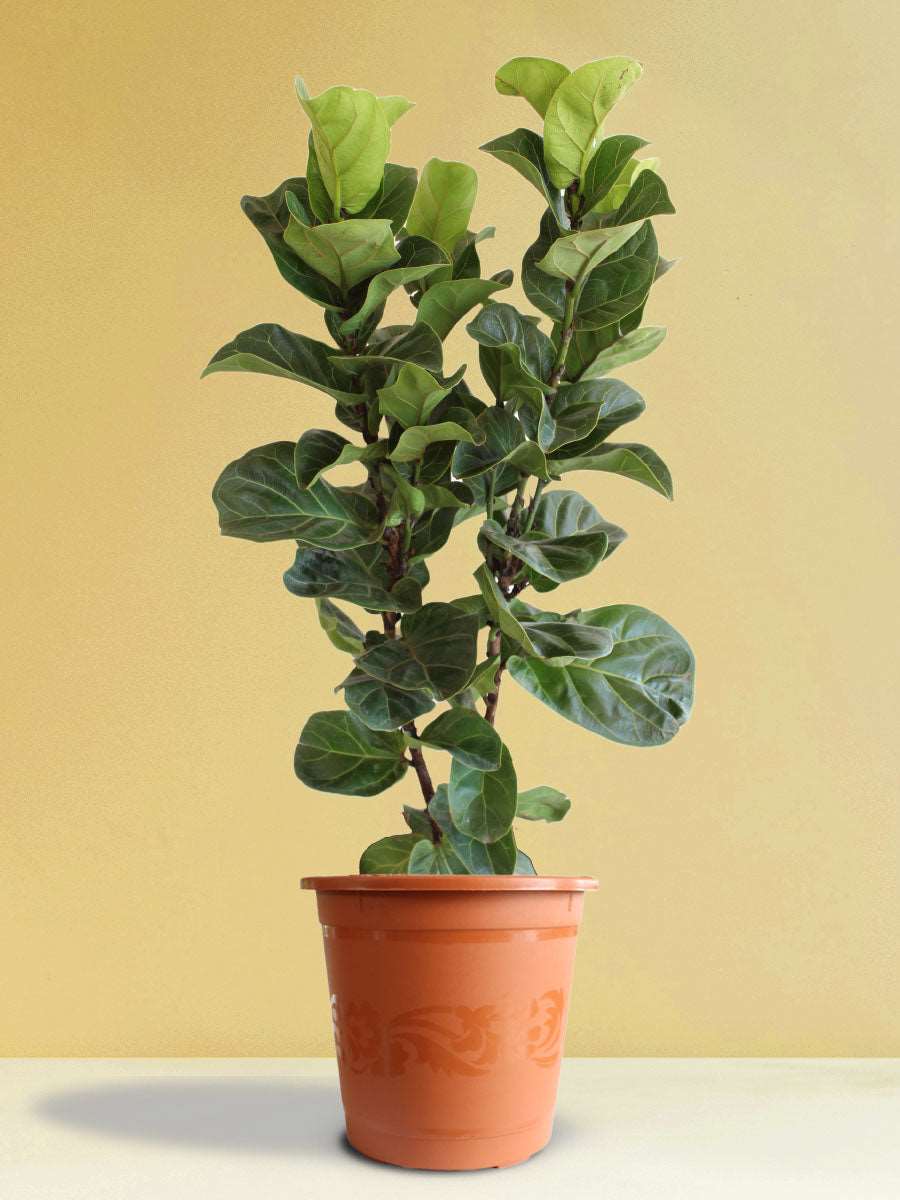 Size Guide
Because the height of plants varies, we use the width of the planters they come in for size.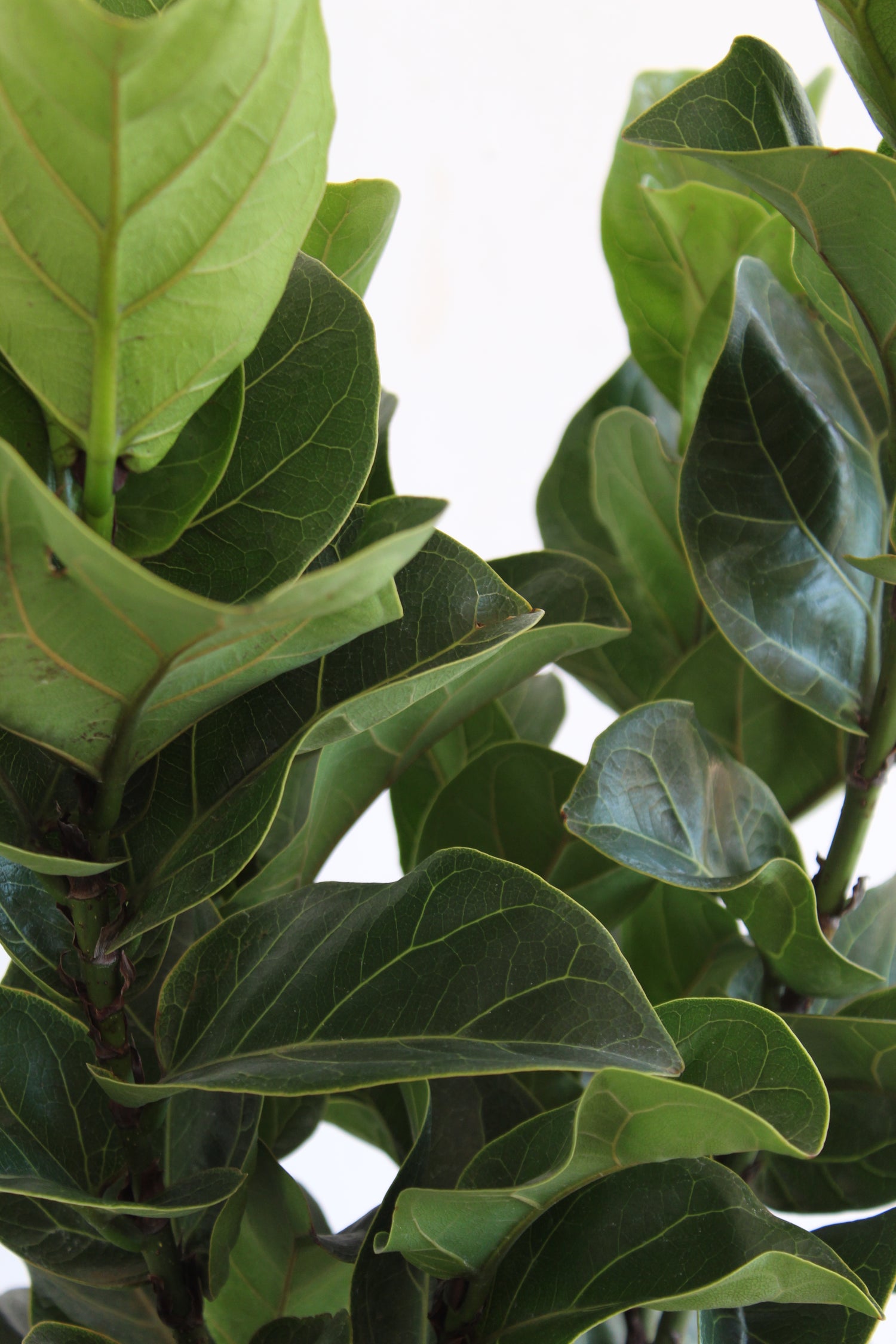 About Fiddle Leaf-Fig (X-Large)
Part of the Ficus genus, the Fiddle-Leaf-Fig plant is an absolute stunner and makes a bold statement in your home. Fiddle-Leaf-Fig has large and waxy deep green leaves. It is native to the tropical forests of Western Africa. Fiddle-Leaf-Figs in their natural habitat are epiphytes. They plant their seeds on another tree growing downward and eventually strangling the host tree to death. Fiddle-Leaf-Figs are huge trees reaching 40 feet in height while growing in forests. The domesticated or indoor Fiddle-Leaf-Fig plant reaches about 10 feet in height. The fiddle-Leaf-Fig plant's leaves are large, deeply veined, and in the shape of a violin or also known as a Fiddle, hence the name Fiddle-Leaf-Fig. The leaves grow on a brown slender trunk standing upright and tall as it matures. They look their best as floor plants as they gain height and grow tall. If given the right care, the Fiddle-Leaf-Fig plant could grow a couple of feet every year and add a lot of appeal to your space.
Also Known As

Lyaata Fiddle-Leaf Fig, Ficus Lyrata, Strangling Fig
Keep In Mind

Fiddle-Leaf Fig's sap could be toxic if consumed. And hence to be safe, keep it away from children and pets.
The Trending 25
Shop our Bestsellers - The plants that everyone is buying
Care Guide for Fiddle Leaf-Fig (X-Large)
Planning to buy Fiddle Leaf-Fig (X-Large) online? Here is all you need to know.
Fiddle-Leaf Fig does well in medium to bright indirect light indoors. If placing it outdoors, prefer a semi-shaded area where it is protected from the harsh afternoon sun.
Fiddle-Leaf Fig loves warmth and does well in room temperatures. Protect it from extreme temperatures and sudden temperature changes
Fiddle-Leaf Fig does well in medium to high humidity conditions. So, in extremely dry weather you might need to mist the plant to maintain the humidity levels.
Fiddle-Leaf Fig plant would need a mild fertilizer every month but not during winters
Fiddle-Leaf Fig would pruning to shape and as required for removal of dried out leaves/stems
Fiddle-Leaf Fig plant would need repotting every two to three years
Fiddle-Leaf Fig Plant can be propagated via cuttings
Brown leaves/spots-
Overwatering, Sudden temperature changes

Yellow leaves or Leaf drop-
Over/Under-watering, Transplant shock, Insufficient light, Infestation

White spots on leaves-
Hard water being used to water

Curled leaves-
Curled leaves
Fiddle-Leaf Fig plants are medium growers
Lyaata Fiddle-Leaf Fig, Ficus Lyrata, Strangling Fig
Light Guide For Plants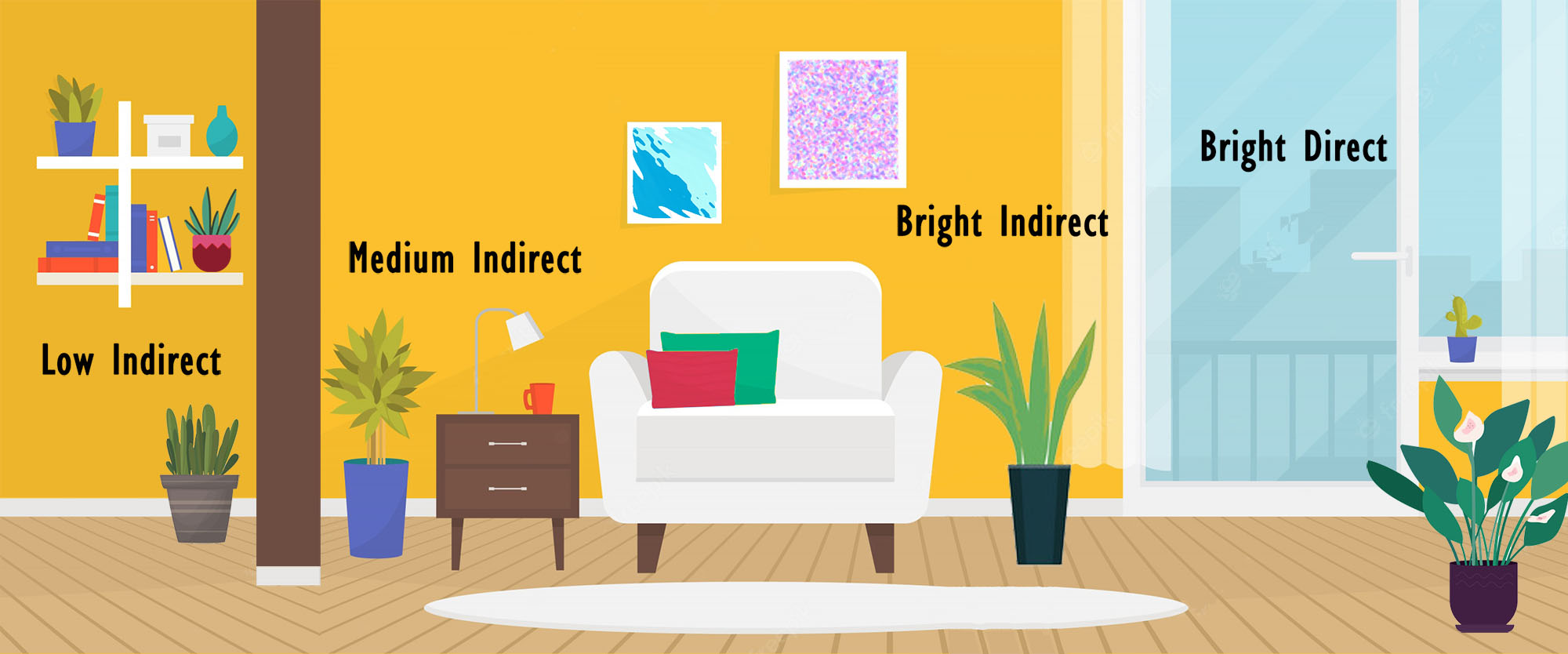 The Greenkin Experience

Healthy Plants
Healthy plants handpicked from finest nurseries across India
Premium Planters
All our plants come in premium hand-made decor-worthy planters

Quality Assurance
All plants are inspected for health and fullness by plant experts

Lifetime Support
Get lifetime support for every plant from horticulturists
healthy and large
The plant I have received is very large. I have kept it in the corner and it is looking very beautiful.